Scotiabank Toronto Waterfront Marathon
On Sunday, September 27th, 2009, I lined up for the start of the Scotiabank Toronto Waterfront Marathon. This would be my first time running, but not racing, a marathon. I'd be using the marathon as a training run for a future event.
Race Weekend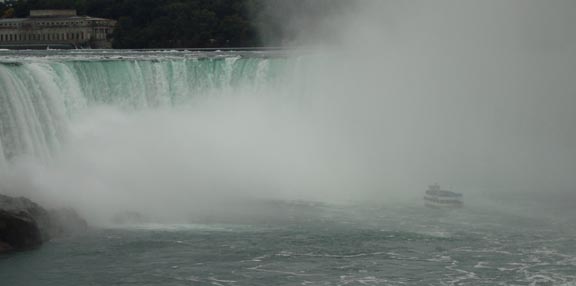 My wife, Dolores and I flew up to Toronto on Friday evening. On Saturday, we drove down to Niagara Falls. It was a wonderful experience. The power of the Falls is so strong, that the mist they kick up feels like rain almost a half-mile away. We decided against riding in one of the boats that go right up to the falls, choosing to take our photos at a slightly safer distance.
I had asked the concierge for a good Italian restaurant nearby. When we arrived, the hostess let us know it would be a 90-minute wait. A little too late for me. As we walked to another restaurant, we passed the Wolf & Firkin Pub. It looked like an inviting place, and the menu outside included chicken parmesan with linguine, a great pre-race meal.
Perfect choice! The pub had a warm atmosphere and Guinness on tap. My dinner was tasty, and the 2 Black & Tans were even tastier. Plenty of "carbs" for my run.
Race Day
My strategy was to run an 8-minute mile pace for the first 13 miles, and then use a run/walk method for the next 13 miles. The run/walk plan was to run for 2 miles, and then walk for 2 minutes. If executed properly, I would finish between 3 hours 40 minutes and 3 hours 45 minutes, and still have plenty of energy.
Fortunately, the race start was directly outside my hotel. I woke up a couple of hours before the start, and had a bagel, coffee and Carnation Instant Breakfast. Then, I went down to the lobby to hang out and read a book. It was fun watching all the runners go through their different pre-race routines - stretching, hydrating, talking race strategy and lining up to use the rest rooms.
Twenty minutes before race started, I headed outside. The crowds were larger than expected, and by the time I got into position, the Canadian national anthem had started. On the plus side, I didn't have any time to get nervous.
It took a few blocks for the pack of runners to break up and get to the right pace. Soon we were on the waterfront parkway, and a light breeze helped ease the humidity. The distance markers were all in kilometers, and my Garmin GPS was set for miles, so it was fun doing the mathematical conversions in my head (yes, this is what I think about when I run).
The first miles seemed to fly by, and soon I was at the halfway mark. I kept running until I reached 14 miles and then started my run/walk routine. It felt strange letting people pass me, but I knew I should stick to my plan.
There was one young woman who passed me every time I started walking, and then I would catch up to her when I started running. She was pushing hard, and doing a good job maintaining a steady pace. During my last walk break, she pulled away, and I couldn't catch her.
Each neighborhood we ran through had different bands and performers. There was a marching band, rap group, Calypso band and a Chinese dance troupe. While some stretches were quiet, overall the crowds were great.
And it got very crowded as we approached the finish line. In addition to the spectators, there were also runners from the half-marathon and 5k walk. With about 100 yards to go, I heard my wife call my name, and was able to see her on the side. Posed for a quick photo and dashed to the finish.
The Results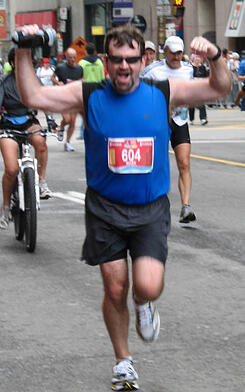 The plan worked perfectly, and I crossed the finish line at 3:42:02. I placed 585th of 2919 finishers, 493rd of the 1828 men, and 74th of the 296 people in my age group (45-49). And, I felt the best of any of my marathons.
While in the finisher's area, I caught up with the woman I saw earlier. I complimented her on her strong finish. She beamed a smile and said, "Thanks. I just qualified for Boston." I know how hard it is to achieve that goal, and congratulated her again. Her smile widened and she said, "I can't hit a baseball, and I can't play soccer. But I can run."
What's Next?
As I said at the beginning, this marathon was a training run. I've decided to make the leap and attempt my first ultramarathon. On Saturday, November 21, I'll be running the JFK 50-Mile Race.
Why? Because I can't hit a baseball, and I can't play football. But I can run.
Thanks for reading, and thanks for your support!