2014 RocknRoll USA Marathon
Planning for a spring marathon is a challenge. I know I'll be training in colder temperatures, so I don't want a race too far south with a lot of heat and humidity. The National Postal Forum, an important trade show in my industry, was scheduled to take place in Washington DC March 16-20, 2014. The Rock 'n' Roll USA Marathon was taking place on Saturday, March 15. It looked like a perfect fit for both location and travel plans.

Race Preparation

This was the winter of the "Polar Vortex", but New England didn't have it as bad as the rest of the country. Business took me to Minneapolis and Milwaukee. A run along the Lake Michigan waterfront with a -20F degree wind chill made me sympathize with my Midwestern friends. There were several long runs in the snow back home, but only a few of my training runs were cancelled due to weather.

Usually, I run at least 2 twenty-mile runs, and 2 runs slightly longer than that. A friend posted a video online of a famous running coach recommending shorter long runs – limiting runs to either 18 miles or 2 ½ hours. He also promoted running some of the long runs at goal marathon pace. Since this wasn't a goal race, I decided to try his advice. Interestingly, 18 miles at my goal pace took 2 ½ hours.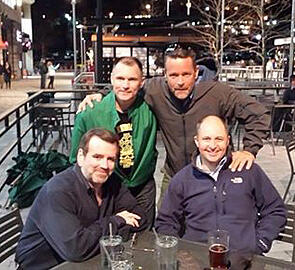 I arrived in DC the day before the race. After picking up my bib at the expo, I registered at a hotel just 3 blocks from the start line. Then I went to dinner with 3 friends – Steve Herring, Brian Hayes and Dan Parks. We were ROTC cadets together, and received our commissions in 1986. While I left the Army in 1990, Steve, Brian and Dan each served 20 or more years. They've lived amazing lives while serving our country, and it meant a lot to see them.

Race Day

Another great part of this race, was that a friend, Allison, was running the race. She and I belong to an online running group on Facebook. I met Allison and her husband, Sean, last year at the Boston Marathon. To support us, another friend from the group, Theresa, drove up to cheer us on and take photos (all the race photos were taken by Theresa – thank you!).

I walked down to the start line with Theresa around 7:00. It was still dark, about 47F degrees and cloudy. I was wearing shorts and a no-sleeve shirt in a sea of people wearing pants and jackets. I found the pacers for people planning for a 3:40 marathon. I felt that was a reasonable goal, and settled in about 5 yards behind the pacers.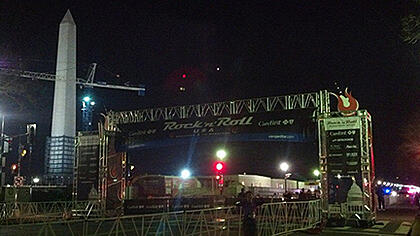 The race start was on Constitution Avenue, right at the Washington Monument. The sun was beginning to come up. A beautiful sight. A nice part about this race is the organizers start the corrals in waves, with about 90 seconds between waves. It would make the roads a lot less crowded at the beginning.

The first few miles were very flat, as we ran along the monuments and over some bridges. There was a slight breeze and the clouds kept the sun at bay. At one point, the buildings blocked the satellite signal for my Garmin. Then the course turned onto a parkway, and it was working again.

As we entered the Georgetown area, the pacers explained their strategy for dealing with the one big hill on the course. We would speed up on the downhill directly before the hill, and then slow the pace when climbing the hill. We would make up the time on the next downhill. It was smart course management, and we finished the mile right on pace.

A few miles after that, the half-marathoners would split off, and there would be a lot fewer runners on the course. We ran around the Supreme Court and Capitol buildings, then back onto Constitution. The clouds kept the temperatures in check, and I still felt strong. We then ran under a set of building and my Garmin went haywire. It showed I ran mile 16 in 4:56, and didn't come close to matching the mile markers. I was really happy I was following the pacers.

Shortly after that, we crossed over the Anacostia River, and the sun came out. The temperatures started to rise very quickly and would reach 65F degrees in the next hour. I could feel my energy fading too. It looked like I wasn't in 3:40 shape after all. However, I still felt reasonably well, and while my pace slowed, I was less than 3 miles from the finish line.

Then I suddenly felt incredibly hot, and my heart was racing. I slowed down even more, and walked through the water stop at Mile 24. I drank a couple of cups of water and poured one over my head. Less than a half mile later, I had to walk again. I started to feel dizzy, and walked until I cooled down. I was so close to the finish, and I didn't want to do anything stupid. I would run until I felt a little dizzy, the walk until I cooled down. Repeat.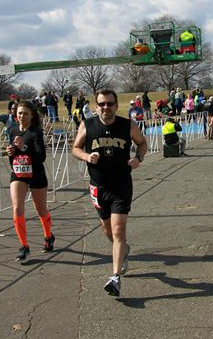 When I could see the finish line just a few hundred yards away, I started to run again. First I heard Theresa, then Allison and Sean yell out my name. Their cheers helped bring the "finish-line smile" to my face.

The Results

Official chip time – 3:55:29. That placed me 743rd out of 2,733 marathoners and 30th out of 95 men in my age group (50-59).

Allison had a great race, with a 3:15 finish time, a new personal best. Sean drove me back to my hotel, so I could take a quick shower. Then Sean and Allison treated us to brunch at the Old Ebbitt Grill. The laughs during the conversation were the perfect medicine for the soreness in my legs.

Lessons Learned

If I want to keep running marathons, I need to run more training miles. My weekly mileage wasn't high enough to give me the endurance to finish strong. For the next training cycle, I'll add more miles in the middle of the week.

Washington DC is too far south for a spring marathon. I think I'll stick to New England.

Don't run a marathon before a 4-day conference where I'm teaching 6 classes.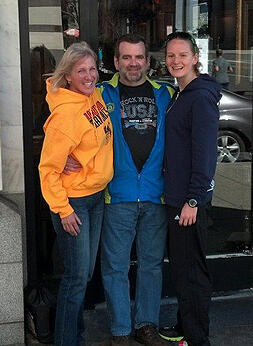 Do meet with friends before, during and after the race. It's the best part of the marathon.

I'll spend a couple of weeks resting, recovering and looking at the fall race schedule. There are some nice marathons closer to home that I still need to run. Plus, it's been over year since I've run an ultramarathon, so I should probably try another one.

Thanks for reading, and thanks for the support.