2015 Rehoboth Beach Marathon
In early June, a non-running related injury forced me to take a 6-week break from running. Since it was summer, I'd have more time to eat ice cream. And get out of shape.

I resumed running in late July, slowly building up my mileage. My paces were slower, and I found myself enjoying my daily runs more than I had in a long time. By September, I started thinking about a late fall marathon, and asked my Facebook friends for ideas. One of them, Theresa, suggested the Rehoboth Beach (Delaware) Marathon in early December. And she asked a favor – she was planning to attempt a new PR (personal record) – would I consider pacing her?

Race Preparation

Theresa's original goal was a time of 4:20, well within my capabilities. But I'd never paced someone before, and was hesitant about taking on that responsibility. So, I signed up for the marathon, but asked Theresa if I could postpone my decision about pacing. No problem.

Two weeks later, Theresa ran a half-marathon in 1:55. Time for her to adjust her goal to a 4:10. And time for me to make a decision. I agreed to be her pacer and stepped up my workouts. I built a training program based on a sub-4 hour marathon. I also reached out to friends who have been pacers and asked for advice. My buddy Don provided a long list of tips to follow on race day. They would come in handy later.

By mid-October, I was feeling more confident. Then Theresa ran the Baltimore Marathon. It was supposed to be a "supported training run" with no real goal. She met up with a member of our online running group, and finished with a 4:10:27! Looks like it was time for a new goal – sub 4:05.

Race Weekend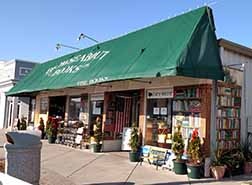 Rehoboth Beach isn't close to any major airport, so I flew into Salisbury-Ocean City in Maryland. Theresa picked me up and I enjoyed a scenic ride through Ocean City and up the coast. We arrived too early to register for the race. But as luck would have it, there was a great local bookstore – Browseabout Books. My kind of place!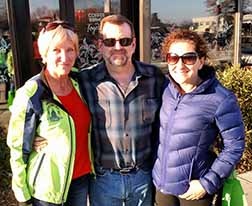 Leaving the registration tent, we bumped into Heather, another member of our online group. She was up from Dallas with a group of friends, and was running the half. We hoped to see each other out on the course.

On race morning, the hotel put out a runner's buffet at 5:00am. Bagels, fruit, yogurt, protein bars and coffee. Great way to start the day.

It was cool out, around 32F to 35F. Walking to the start, we were joined by runners in all manner of dress, including jackets, long pants and wool hats. I was wearing a long-sleeve shirt over my race shirt and Theresa had on a running fleece over her singlet. We both knew it would much warmer when we approached the finish at 11:00.

A beautiful acapella version of the national anthem, and we were about to start. I decided to ditch my long-sleeve shirt and Theresa did the same with her fleece. The large pack of runners blocked most of the wind. It was chilly, but manageable.

The goal was to run negative splits – averaging 9:20 to 9:30 miles for the first half, and then 9:05 to 9:09 miles for the second half. We hit the first mile right at 9:20, but then got caught up with the enthusiasm of the pack running through the neighborhood streets. Miles 2 and 3 were 9:10 and 9:07. I had to slow us down.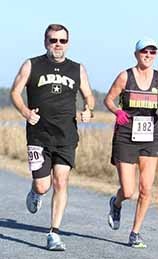 The half-marathoners split off and we entered Cape Henlopen State Park with crushed cinder paths. The scenery was spectacular, and we got back to the right paces – 9:21, 9:23 and 9:27.

We hit the one "hill" at Mile 7 (9:18) and enjoyed the view of the dunes at the top. Running downhill meant a fast Mile 8 (9:06), so I had to slow us again as we exited the park for some street running near the ferry terminal. The next three miles were closer to goal – 9:19, 9:18, and 9:16.

We reentered the park, and back up the hill for Mile 12 (9:20), and used the downhill to finish Mile 13 with a 9:00 mile and hitting the half at 2:02. The plan called to pick up the pace. Theresa was in good spirits and still felt strong. Miles 14, 15 and 16 involved catching and passing runners with paces of 9:03, 9:01 and 9:08.

Mile 17 (9:10) meant a return to the streets for a few miles. The sun was stronger and the temperatures rising. We still stayed close to the plan for Miles 18 and 19 with a 9:11 and 9:05. At Mile 20 we reentered the park on a different trail, and I let Theresa know she only had a 10K left.

This path wasn't as smooth as the first one, with lots of rocks that looked like ankle twisters. The miles and the paces started to take their toll, and I could sense Theresa struggling. We hit Mile 20 at 9:18, and then we walked through the water stop at Mile 21 (9:15). The next two miles were tougher – 9:29 and 9:39. I needed to get us back on track.

First I told Theresa to stop offering encouragement to other runners and save all her energy for her legs. I pushed the pace for Mile 24 up to 9:15 and when she walked through the water stop at Mile 25, I slowed to a jog, staying in front of her pulling her pace to 9:32.

Theresa asked how close we were to her goal. I knew we were in good shape, but told her it was going to be real close, and that we would have to push hard (thanks, Don!). We clocked a 9:03 for Mile 26.

The Results

After passing the Mile 26 marker, the finish line was in sight. I told Theresa I had lied, and that she was going to beat her goal. She muttered something about my deception, and then started smiling.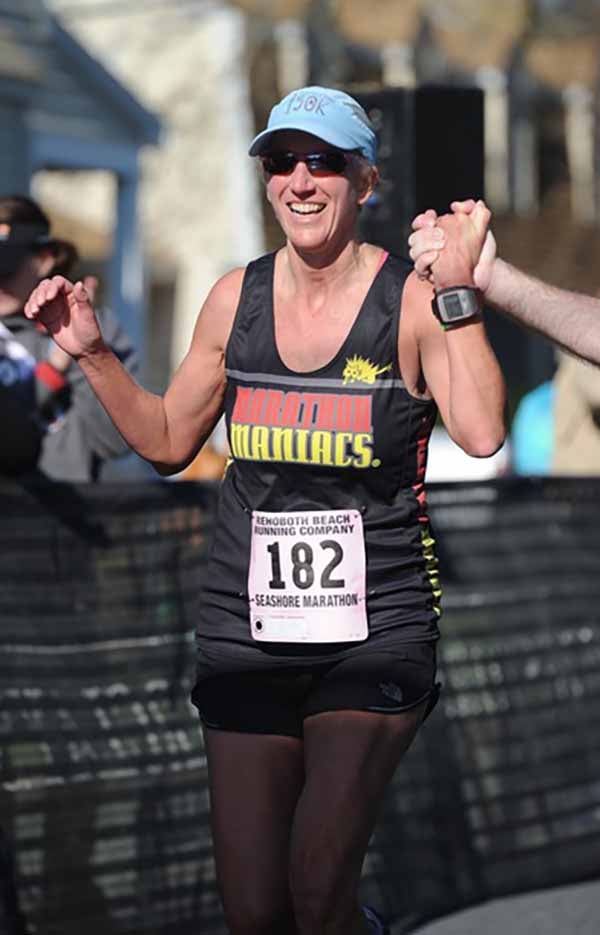 And kept smiling as she crossed the finish line at 4:04:04. A 6-minute PR, with 55 seconds to spare. Mission accomplished!

The finisher's medal was probably the heaviest and unique one yet – a life preserver. It will definitely stand out among the other ones hanging in my office.

For a first-time pacer, this was an amazing experience. I was honored that Theresa trusted me, and grateful that I didn't let her down. Helping someone achieve their goal is even more rewarding than finishing a race with a new PR. I hope to get the chance to pace someone again.

Not sure what race I'll take on next. For now, I'll just enjoy the recovery and some easy running.

Thanks for reading, and thanks for your support.