Olathe Marathon
On Saturday, March 29, 2008, I ran my second marathon, the Olathe Marathon, in Olathe Kansas (about 20 miles south of Kansas City, MO). I had hoped to post a faster time than the race in Jacksonville, and even qualify for the Boston Marathon.

For my pre-race dinner, I went to Ricco's Italian Bistro in Overland Park with some friends from Sprint Mailing Services and my business partner, Barbara Knight. I was able to "carbo-load" in style, and enjoy a great evening with a fabulous group of people. Also, everyone was willing to have an early dinner, so I could get back to my hotel for a good night's sleep.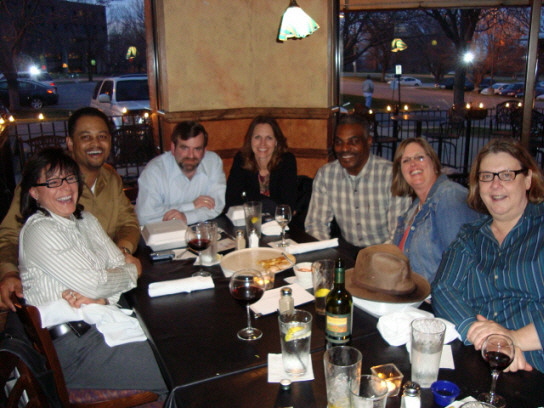 (Left to right - Barbara Knight, Keanon Swan, Me, Krystal Barr, Melvin McCullough, Tracy Fauglid, Jill Vandermolen)

At race start (7am), it was 40 degrees, with a strong wind that made the temperature feel closer to 32. Many of us huddled around whatever shelter we could find. It was definitely one race where I wanted to start in the middle of the pack.
The first half of the race went really well. I was able to maintain about a 7:40 minutes-per-mile pace by staying about 10 feet behind a group of experienced runners (they were part of the "50 State Marathon Club"). At the 13.1 marker, I was 3 minutes ahead of my desired pace.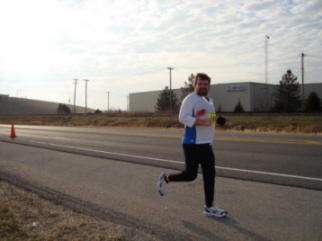 Me going strong at 13.5 miles.

Things changed as we turned directly into a 15-20 mph headwind for 4 miles of difficult hills. Not only did the wind slow me down, it really took a lot of energy out of me. It soon became apparent that this marathon would not be my Boston qualifying race.
I did finish faster than the last race, with a time of 3:47:01, and my race standings were respectable - 118th out of 476 total runners, 105th out of 326 male runners, and 11th out of 42 in my age group (men 45-49). So overall, I'm still happy with the results.
My recovery run on the Tuesday after the race went very well, and I'm starting to look for my next challenge.

Thanks to everyone for their support of this new and interesting hobby.