2016 Myles Standish Marathon
Back in April, I attempted to run a 50K trail race, but had to drop out after 18 miles. It was still a good day, and I learned a lot through the experience.

I took my time recovering and building back up my mileage. Just running with no plan and no goals was enjoyable. As the spring turned to summer, I started considering a fall marathon, wanting to stay as local as possible. The winner – the Myles Standish Marathon in Plymouth, MA.

Race Preparation

Initially, I wanted to set a reasonable, but challenging goal. On my Facebook page, I posted that I would shoot for a 3:50 finish time. With steady mileage and consistent speed work, completely achievable.

However, as the weeks went by, the mileage steadily climbed. But the speed didn't. Tempo runs were replaced with steady paces. There was no desire to run fast.

A week out, I knew that a 3:50 was a long shot. Sub-4:00 seemed realistic, and maybe even a 3:55 was possible.

Race Day

Plymouth is about 70 minutes from the house. Woke up, stretched, brewed some coffee and cooked an egg & cheese bagel sandwich. Hit the road around 5:30, arriving at the Plymouth North High School by 6:45. Used the indoor restrooms and caught the bus to the start line. Met some interesting people, including a gentleman that was running his 196th marathon. People who had run the race before said that the course wasn't that hilly, and most of the hills were done around mile 18.

I found out later that either these runners were lying, or had really bad memories.

The race begins in the Myles Standish State Park. Very low-key, a little over 100 full-marathon runners with some relay marathon teams. None of the roads are completely closed -so about 5 minutes before the race begins, a crew lays a timing mat on the street, the runners assemble, and an air horn signals the start.

It was 39F at 8am, and with a no-sleeve race shirt, I went out a little fast – 8:43. However, I felt good so decided I would float between that and 9:00 per mile through the hills. And there were a lot. Not necessarily steep, but constant. And lots of curves, making it hard to keep to the tangents. But I just enjoyed the beauty of the park and clicked off the next 5 miles – staying between 8:40 and 8:53.

I found myself passing people, but I still didn't feel like I was pushing that hard. Paces stayed the same, my breathing was relaxed and my legs felt fine. I hit the half around 1:55. Although the temps were rising (it was already 55F), I was staying hydrated and felt confident.

Around Mile 15, another runner caught up with me and introduced himself by saying, "It's great to see another older, larger runner out here."

"I mean that as a compliment"

I laughed. While I was 5 years older than him, I appreciated the sentiment. Most marathoners don't weigh as much as I do. Nor are they as old. But I don't care, I love the sport.

The guy said that I was looking good, and should be in shape to handle the hills at the end. Hills at the end? I thought the hills ended around Mile 18? No, that's one of the longest hills, but the hills don't really ever stop. The hill right before the finish makes most people walk. But the guys on the bus said….

The hill between Miles 18 and 19 was a killer, including the highway overpass. Slowest mile to that point – 9:05.
Fortunately, Mile 20 had a gentle, mild decline. While outside the state park, the road went along Plimoth Plantation and was shady. We passed by horse stables, where riders were taking lessons. As I looked at the beautiful animals I thought – didn't humans domesticate horses about 5,000 years ago so they didn't have to travel long distances by foot? 8:46 for the mile.

The hills restarted, and took their toll on my body and psyche. The temperature had risen to 66F. My breathing became labored, my legs tightened and my pace slowed. 9:13, 9:33, 9:37. If I could stay under 10:00 minute miles, I could still break 4 hours. The last water stop was right at the 24-mile marker. As I took the cup from the volunteer, my right leg cramped up. Hard. Had to walk for about 10 seconds or so.

Started talking to my leg (an old trick my father taught me). It agreed to behave for the last 2 miles as long as I didn't push it. I agreed to a slower pace. We pushed forward. 9:43 for mile 25. Then a half mile later loomed the big hill leading to the finish line. This was going to take every bit of guts I had left. Hit the top and could see the high school. 9:38.

The Results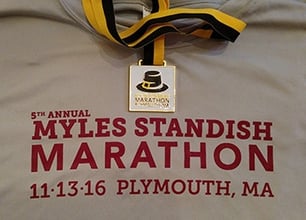 The last quarter mile is a loop around the school. Mostly downhill. Almost there. All I have to do is make one more turn and push another tenth of a mile. But my leg decided that it had enough, and started to spasm.

Talking sometimes works, and talking has it place. But this was time to take command. I ordered my leg to shut up and finish. Falling down was not an option. It was not happy. We were not having fun. It will be an interesting to see what the photo looks like.

Crossed the finish line at 3:57:40. Placed 35th out of 119 runners overall, and 3rd out of 10 runners in my age group.

Thanksgiving is next week, and winter will soon be here. I'm going to take a few weeks before deciding what my next running adventure should be.

Thanks for reading, and thanks for your support.