Minneapolis Marathon
Do you believe in signs?
To pay for my trip to Minneapolis, I'd used Delta miles, Hertz points and Marriott points. So, I wasn't expecting the best seats, cars or rooms. But, when I checked in online, I received a complimentary upgrade to First Class. The passenger boarding directly in front of me was wearing a Boston Marathon jacket. When I arrived at Hertz, the car was a brand new Ford Fusion. At the front desk of the Depot Renaissance Hotel, the clerk told me I was being upgraded to one of their historic suites. The room - the St. Cloud Suite. What does St. Cloud have to do with me or my race? Absolutely nothing.
Do you believe in numerology?
The Minneapolis Marathon on May 31, 2009, would be my 5th marathon in 5 different states, taking place on the 5th Sunday of the 5th month of the year. And during that 5th month, I completed runs in 5 different states. And my favorite number is……. . 7.
Signs and numbers weren't going to get me a Boston Marathon qualifying time, or "BQ" (3hrs, 30 minutes, 59 seconds or better). It was going to take running more miles, training smarter, and receiving the support of some great people.
Race Preparation
After being 56 seconds too slow in the Hyannis Marathon, I knew I would have to run more miles. I developed a training schedule that would increase my mileage from an average of 44 miles per week to about 52 miles per week.
I posted the outline of my training plan on the Marathoners' Forum on the Runners' World website and asked for opinions on my pacing. Some more experienced marathoners took the time to respond. The general consensus was that I should concentrate on building endurance, not speed. And, I should slow down the pace for many of my training runs.
The training seemed to be working. By completing my workouts at the right pace, my tempo runs were getting faster. I wasn't wiped out after my weekly long runs of 20 and 22 miles. My online friends from the Runners World forum gave me more feedback and encouragement. I also lost a few more pounds. I felt ready.
After checking in, I went over to the race expo to register. The expo was located outside the back door of the hotel. This was also where the race would start Sunday morning. Perfect logistics.
I met two of my friends, Sara and Jeff, for dinner. We went to Maggiano's, just south of Minneapolis. Four cheese ravioli for an appetizer and chicken with gnocchi for dinner. Plenty of water and bread. It was a wonderful and relaxing evening. Was back to my hotel early and in bed by 9:30.
Race Day
Headed out to the race about half-hour before race start. Saw my friends Don and Tim from the online Marathoners' forum. Don was going to try for a sub 3-hour race, and Tim was volunteering. Handshakes and hugs, then we got into our start positions. I decided to put myself between the 3:20 and 3:30 pacers.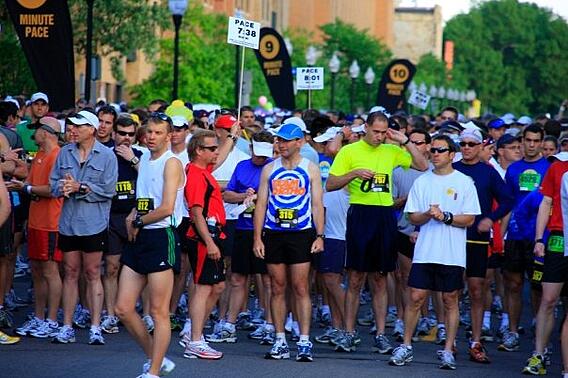 Start time. To finish in 3:30, I'd need to run 8:00 minute miles. My plan was to run between 7:50 and 7:55. This would provide a slight cushion, as the last mile was uphill. Adrenaline got the better of me, and the first mile was 7:20. Slow down. Next two were 7:43. Still too fast. I slowed down some more, settled into my planned pace of 7:50's.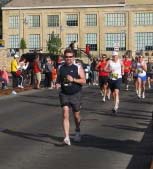 The beginning of the course looped over the Mississippi River and back through a park and some nice neighborhoods. Around mile 5, Sara and her husband, Ray, were on the sidelines cheering for me. A few yards ahead were Jeff and his wife, Trina. Right after that Tim jumped in and ran with me for a quarter mile, telling me my pace was perfect. Felt great.

The next 6-7 miles followed a river parkway. First downhill into a valley (we'll get to that hill again, later), and then flat. We then went into a park around Ft. Snelling. A steep downhill, and onto a wooded trail. Hit the halfway mark about a 1 minute, 45 seconds ahead of my goal time. Just keep an 8:00 pace, and this race is mine.
Coming out of the park was a long uphill. But, it wasn't that steep, and I completed it in 8:06. A few seconds slow, but now we're back on the flats. Mile 20 - 8:01. Mile 21 - 8:02. Mile 22 - 7:55. Mile 23 - 8:04. I'm going to make it.
Mile 24 - the proverbial WALL appeared without warning! Legs started to twitch and a wave of nausea almost bowled me over. I stopped to deal with the nausea and my legs had a short spasm. Right then, the 3:30 pacer passed me. If I could keep him in my sights for the next 2 miles, I would make my goal. Total time for Mile 24 - 8:31. Picked up the pace for Mile 25 to 8:17.
Remember that downhill into the valley? Time to go back up. I train on hills, and this hill was not that steep, nor that long. But after 25.5 miles, it looked like a mountain. My "twitches" had become "spasms". I kept reminding myself, "I'm almost there. I'm almost there."
I reached the crest of the hill, and could see the finish line. The clock read "3:29:xx". I knew I had only a minute to spare, so I pushed aside the pain, focused on the finish line, and ran as hard as I could. I heard my name announced on the loudspeaker, saw the clock at "3:30:16", and raised my arms in triumph. I had achieved my BQ.

As soon as I crossed the finish line, my body stopped. A volunteer appeared in a flash, telling me to lean on him. As we exited the corral, he grabbed some water and made sure I drank it. He then helped me find a safe place to sit down. After making sure I was coherent and okay, he went back to help other runners. I hope I said, "thank you."
A few seconds later, my friends appeared. Sara had brought along a large bottle of Gatorade and more water in a little cooler. She let me borrow her phone to call my wife. After my strength came back, Jeff and Trina helped me walk back to my hotel, with me leaning on each of them.
The Results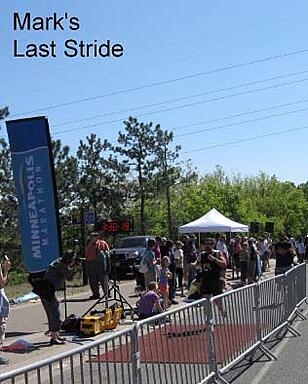 After a cold shower, stretches, and a call home, I went to the post-race expo. Picked up my finisher's jacket, and got the official results. Chip time: 3:30:13. Overall place: 109th out of 1200 finishers. Gender place: 93rd out of 677 male finishers. Personal bests in each category.
My recovery run the next morning took me back over the Mississippi River and through the park again. A beautiful place to run. While my calves were still tight, overall my body seemed to be okay.
More miles. Smarter training. Great support. The factors to my success.
What's Next?
This race was harder than I expected, but my recovery seems fast. What kind of race should I run between now and the Boston Marathon next year?
Well, have you ever heard of an event called anultramarathon? Stay tuned!
Thanks for reading, and thanks to everyone who's been there at every step of the journey.