Mark and Running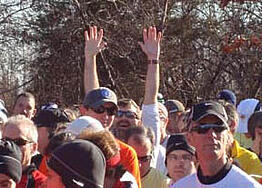 In April 2007, I started running again.
In the years since I left the Army, my running program had been disjointed at best. Usually I would start a program in the spring, stop in the hot summer months, re-start in the fall, and then call it quits for the winter. Some years, I wouldn't start at all.
What made 2007 different? I set a goal (the Army 10-Miler) and reached out to two friends for their support and encouragement. The results were far better than I hoped, and I knew that I wanted to do more.
Running has now become a part of my life. I keep a training schedule, maintain a log of my work, and have outfitted myself with running gear and GPS technology (gotta have gadgets!).
As I'm not built for speed, my goals will be long-distance running events - marathons and ultramarathons. On these pages, I'll post stories and photos about the races I've completed, and the little lessons I learn along the way.
Do you have a running story or training tips you'd like to share? Please send them to me at mmf@berkshire-company.com. I'm still learning, and want to learn more.
Completed Races (click links below for results and photos)