JFK 50 Miler - My First Ultramarathon
Theodore Roosevelt wrote that "our country calls not for the life of ease but for the life of strenuous endeavor."
Roosevelt practiced what he preached - leading hikes and hunting expeditions after becoming the nation's youngest President. As Commander-in-Chief, Roosevelt required that all military officers be able to cover 50 miles on foot in 20 hours to maintain their commissions.

Inspired by Roosevelt, President John F. Kennedy issued the same challenge to his military officers. Officers, non-commissioned officers and civilians responded to the challenge and participated in 50-mile events around the country. After Kennedy's assassination, one of those events became the "JFK 50 Mile Memorial". The race includes13 miles on the Appalachian Trail, 26 miles along the Chesapeake & Ohio Canal towpath, and over 8 miles along roads through farmland.

Both Kennedy and Roosevelt were my boyhood heroes. As an Irish-American growing up outside Boston, I felt Kennedy's legacy everywhere. Roosevelt remains an inspiration for me, by his words and his actions. An author of more than 40 books, Roosevelt's the only man to be awarded both the Medal of Honor and the Nobel Peace Prize.

I guess it was fitting that this 47-year old former Army officer lined up for the 47th Annual JFK 50-Miler on November 21, 2009.
Race Preparation
After researching several websites, I put together a 16-week training calendar. I would continue to train 5 days per week, and extend my long runs out to 32 miles. I started incorporating the run/walk method on my longer runs (run 2 miles, then walk 2 minutes), and that really made a difference. When possible, I would run on dirt trails.
During this same time period, my work travel schedule picked up considerably. I ran whenever I could, wherever I could, and used the Toronto Marathon as a training run. At the end of the 16 weeks, I'd run over 850 miles in 10 states and 1 province. I was as ready as I was going to be.
The day before the race, I flew down to Washington, DC and picked up my good friend, Brian Hayes. We were ROTC cadets together in college, and Brian was a key supporter when I started running two years ago with a goal to finish the Army Ten Miler. Brian was also running the JFK, with the early 5:00am start time, and his girlfriend, Anna, would lead our race crew - meaning Anna, her daughter Jessica, and Brian's son, Ian.
The drive to Hagerstown, MD was fun, and we took some side roads so I could see more of the countryside I'd be running in the next day. We registered for the race, checked into our hotel and found a place for dinner. We ended up at a Ruby Tuesday restaurant, and each ordered the chicken parmesan over pasta (sauce on the side). I also had my traditional additional carbohydrates, 2 Sam Adams Boston Lagers.
Race Day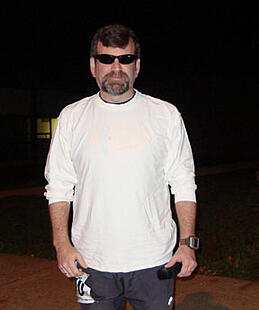 I woke up at 5:00 and had my standard pre-race meal of a bagel, coffee and Carnation Instant Breakfast. I stretched and updated my Facebook page and the Runners World website. Anna drove me over to the start line at 6:00. It was about 40 degrees, so I wore a throwaway long sleeve shirt. Hoping that the sun would be up by 7:00, I also had my Oakleys.
After a briefing in the Boonsboro High School auditorium, we walked to the start line. I stayed in the back of the pack, as I didn't want to get caught up in the excitement and run too fast at the start. With the crowd, it was hard to tell where the exact start line was. So, I hit the button on my Garmin at what I hoped was the race start.
The first 2 miles are on a road leading up to the trailhead. While this is a steep hill for some runners, it had the same profile as a hill that I train on near my house. I kept my pace at an easy 9:30 minute per mile and felt great.
Suddenly, I heard someone talking to me. It was Rob Dolan, a member of the online Marathoners' forum. Going by the screen name "spreT", Rob is an experienced ultramarathoner who recently finished the Grindstone 100-Miler. Rob wasn't running the race, but had shown up to run the trail portion of the race with me. Until that moment, we'd never met in person.
We hit the trail, and I let Rob take the lead. I had limited trail experience, and none of it on a rocky terrain. We kept an even pace, walking up the steepest portions. Rob kept me entertained by pointing out the runners that were running too fast and breathing too heavy, promising me that I'd be passing them in the later stages of the race. He knew a lot of other runners, and alternated his comments with a combination of support and light-hearted harassment. Rob was in his element.
When we hit Mile 12, I pulled slightly in front of Rob, needing to stretch my legs with some longer strides. At that point, I met Pete Kenny from New York. This was Pete's first ultra too, and we had similar time goals. We chatted, running side by side for the next few miles.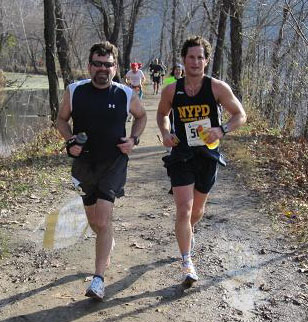 Soon we could see the Potomac River and began the descent to the towpath. The switchbacks were narrow and steep, but I managed not to trip or fall. You could hear the crowd cheering on runners at the next aid station. I had made it through the trails.
I waited for Rob at the aid station, and we started down the towpath. Pete joined us, and we were off. As I was talking to Pete, I noticed my breathing getting heavier, and checked our pace on my Garmin. We were speeding up, and I wasn't sure about maintaining that pace for another 34 miles.
After a few minutes, Rob called out. He was leaving the course to go back onto some steep trails (he's training for a 100k race next month). He raced ahead to take a photo of me and Pete. Rob and I talked a bit, and he warned me to slow down. We said our goodbyes, I thanked him again, and he ran up the next trail.
I told Pete that I was slowing down, and would understand if he wanted to go ahead. Pete said that he'd prefer to run together, and would stay at the slower pace. The distances between aid stations ranged from 3 to 4 miles. We planned on using the halfway point between aid stations for our walk breaks.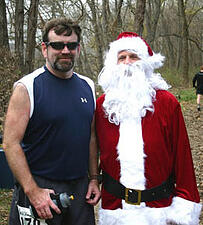 The aid stations were fantastic, and staffed with amazing volunteers. There was water, Gatorade, Coke, pretzels, potato chips, gels, salt tablets and even hot soup. The volunteers' enthusiasm boosted my spirits at every stop. I even was able to get a photo with Santa at the Mile 34 aid station.
Right before the Santa stop, I caught up with Brian. He'd twisted his ankle on the trail, and was forced to walk. We had a brief discussion over whether I should stay with him, but he told me to go ahead. Anna and the crew would be at Mile 38, and he directed me to update them on his status and expected arrival time. Despite his injury and obvious pain, Brian would go on to finish the race, with Ian accompanying him for the final miles.
Shortly after leaving Brian, I started feeling the effects of running for more than 6 hours. My toes, arches and my right knee were hurting. My legs didn't want to move, and my pace started to slow. Pete asked if I was okay, and I told him to continue on without me. We shook hands and promised to find each other at the finish line.
At Mile 38, I met Anna, Jessica and Ian. After updating them on Brian, I got a couple Advil and my sports beans. We talked for a bit, Ian gave me some gum, and I was off for the final 12 miles. Advil doesn't work that fast, but the pain became more manageable after the stop. I laughed, remembering how important your mental state is during long distance runs. I was even more grateful for the crew support, and all the aid station workers.
I was soon done with the towpath, and we started on the roads. According to my Garmin, I'd gone almost 43 miles with only 7 miles left. Wait a second, a marker on the road indicated there were 8 miles left. My GPS was off! My brain wrestled with this new information, and my emotions battled with adding another mile to the finish. I settled on a plan and took off.
I train on roads with rolling hills, so I was in familiar terrain. I picked out markers in the distance, and felt the final miles melt away. Before long, I could see the crowd at the finish line.
The Results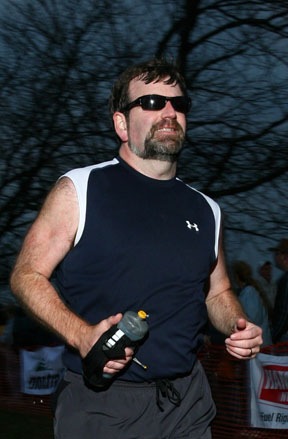 I crossed the finish line at 9 hours, 37 minutes and 30 seconds, placing 311th out of 1030 finishers, and 87th out of 298 men in my age group. I found Pete, and shared a congratulatory hug. We had both met our goals of a sub-10 hour race.
Anna helped me to a chair and handed me food, drink and my phone. A call home, some text messages to friends and posted my results online. Then I just stared at what is my favorite finisher's medal.

What's Next?
The morning after the race, I went out for a very slow, 2-mile recovery run. While my feet and knees were still tender, I could tell there was no serious injury. Some ice and rest were what I needed.
The JFK 50 Miler was everything I'd hoped it would be. I'd been anxious about the trails, but managed them okay. While I had to run the miles myself, I was on the receiving end of incredible generosity from people who'd I'd never met before - especially Rob, Anna, Jessica, and Ian. I was able to share in Brian's triumph over his injury. And I'd made a new friend, Pete.
I'll spend the next few weeks recovering, and slowly return to the roads. In January, I start a new training cycle to prepare for the 114th Boston Marathon on April 19, 2010.
Thanks for reading, and your continued support.