2012 Hyannis Marathon
The last few years I wanted to focus on ultramarathons. Then an injury caused a setback, and I had to rebuild my endurance. In 2011, I was able to complete a 6-hour trail race and my first 50K (31 miles) race in 6 hours and 35 minutes. With the endurance question resolved, I decided it was time to test my speed. My personal record, or "PR", for the marathon distance was 3 hours 30 minutes and 13 seconds, set at the Minneapolis Marathon almost 3 years ago. So, I signed up for the 2012 Hyannis Marathon on February 26, with the goal of setting a new PR.
Race Preparation
For the last 18 months, I've been working with a running coach, Mark Murray of Precision Endurance Coaching. Mark agreed that I was ready for another shot at a 3:30 marathon. He put together a training program with easy running, a weekly long run, and some interesting (and tough) workouts to improve speed and endurance.
Fortunately, we had a mild winter in New England. There was only one weekend with snow, so I was able to complete all of my workouts, all of my long runs, and meet the training paces my coach had set. On January 1st, I ran the 1st Run 10K in Lowell, MA to test my fitness level. We had great weather, and I finished with a time of 44:35. Goal achieved! With 7 weeks to go, things were looking good for Hyannis.
Race Day
The one unpredictable aspect all races share is the weather. While in Massachusetts, Hyannis is known for relatively mild winters, and temperatures for race day were predicted to be about 35F at start time, and rising to about 40F. Perfect!
However, the beautiful temps were offset by strong winds. Steady winds of 15-25MPH, with gusts up to 40MPH. Parts of the race are along the beach. Flat, open spaces. This promised to be interesting.
My wife and I stayed at the Hyannis Convention Center hotel, which is also the start/finish for the race. A late start time, 10:00am, meant an easy morning. Coffee and a bagel for breakfast, extra water to hydrate, relaxing in the room. About 9:30, I headed to the start line.
The start corrals were crowded. The Hyannis Marathon is a 2-loop course that attracts over 3,200 half-marathoners, 400 marathoners, and relay teams in both distances. I knew that the congestion would thin out quickly over the first mile, so I wasn't worried.
The start siren blared, and we edged our way forward. I stayed to the outside, and was able to keep a steady pace without weaving in and out of the crowd. An 8:00 minute per mile pace is needed for a 3:30 marathon, so my goal was to stay between 7:50 and 8:00 minutes. Mile 1 at 7:53. Right on target.
I was able to keep that pace throughout the first half. As expected, the wind really picked up when we reached the ocean. Surprisingly, the wind was also strong in the section after the beach. I tried not to think about that, and just kept running. As we approached mile 13, most of the runners around me picked up the pace, as they would be finishing the half. I stayed calm, and let them pass me. Time for lap number 2.
The second lap has the feel of a small foot race. My goal was to keep my pace steady and use the runner in front of me as a target. There are fewer runners, with the closest anywhere from 30 to 100 yards away. At Mile 15, I caught up to a female runner and remarked, "Are we the only ones out here?" She laughed, agreed, and wished me luck as I pulled away.
About a mile later, we turned towards the water, and the winds picked up. With no other runners around to block the wind, I could really feel the impact. Mile 17 was tough, and I slowed to an 8:09 pace. Miles 18 and 19 were the same. There was a respite at Mile 20, and I got back to my 8:00 pace goal.
The winds returned along Craigville Beach, and I felt like I was running up a hill. Mark, my coach, was there, and he told me I was looking strong. I yelled back that the wind was killing me. He got in his car and drove ahead. A half-mile later, he was there again, telling me I was still on pace, and that I could still reach my goal.
But the winds didn't die down. The physical and psychological impact was powerful, and drained the strength from my legs and my spirit. I had "hit the wall" before in a marathon, but this felt different. I felt I had no energy left. I knew I was slowing down, but couldn't find the reserves to get back on pace.
Mark was there again at Mile 23. He could tell I was hurting. He reminded me that I was a tough runner, and that I was still running strong. His words meant a lot.
Around Mile 24, I heard, "I guess it's still just you and me racing." It was the woman I'd passed at Mile 15. I'd been expecting her to catch me. Now it was my turn to laugh, and wish her luck as she pulled away.
At Mile 25, a spectator yelled, "Almost there. You're looking great." My response, "Liar!" (with a big smile). As I approached the Mile 26 marker, my right leg seized up. The pain was excruciating. I thought I was going to fall down. Walking for a minute helped the cramp subside.
The Results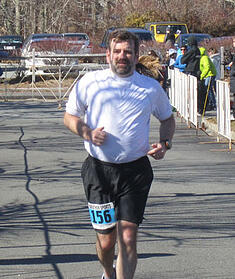 As I entered the finishing chute, I saw Dolores at the turn. I tried to smile for the photo, but could only manage a grimace. The Finish Line was still 10 yards away.

Official chip time - 3:38:54. That placed me 82nd out of 402 marathoners.
The Bonus Results
After the race, my legs were still cramping and it was difficult to walk. Dolores met up with me, and helped me to a chair inside the hall. We propped up my legs and I tried to stretch them out.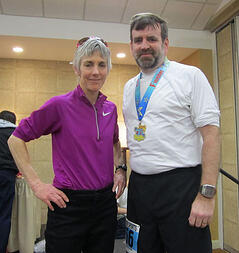 On the stage was Joan Benoit Samuelson. The first Olympic Women's Marathon was in 1984, and Joan won the Gold Medal in 2:24:52. Dolores helped me get back on my feet, and I ambled over to the stage. I asked Joan if she would let me take a photo with her. Kindly, she agreed. Woot!

The Hyannis Marathon is a race that has awards for heavier runners, or "Clydesdales", including a category for Masters, or runners over 40. My 3:38:54 was fast enough to earn First Place, Masters Clydesdales, 190-210 lbs! Woot! Woot!

What's Next?
Rest, recovery and rumination. This race took a lot out of me, and I need some time to recover. I'll meet with my coach to dissect my training, the race day conditions and my performance to see what I could've done differently.
Then I'm going to work on the answer to a question that's been buzzing in my brain - how many times can a certain runner complete a 3.17 mile lap within 24 hours if he starts at 7:00PM on his 50th birthday?
Details to follow.