2009 Hyannis Marathon - 56 Seconds
Less than one minute. After months of training, enduring a cold, bitter winter, and logging about 650 miles since my last race, on Sunday, February 22, 2009, I finished the Hyannis Marathon in 3 hours, 31 minutes and 55 seconds. Or, 56 seconds too slow to qualify for the Boston Marathon.
I also set a new personal record (PR) by 6 minutes and 18 seconds. Failure or Success?
Race Preparation
My plan for this training cycle was to add an extra day of running and more miles. That became a challenge when winter came early, with plenty of snow, and lots of cold. With the exception of a brief trip to Florida, it seemed no matter where I went, tough weather followed. One evening in Des Moines, the wind chill dropped the temperature to -16F during my run. If you wear the right gear, it's not as bad as it sounds.
As before, I shared the gains and setbacks with my fellow marathoners who post on the Runners' World forum. We've had more people join the runners who post our daily workouts. Their dedication and enthusiasm really helped during the harder days. It's a wonderful group of people.
The day before the race, my wife, Dolores, and I headed down to Cape Cod. Our good friend, David, invited us to stay at his house in Harwich. We dropped off our bags, and headed to the expo to register and drive the course.
At the expo, I met Dick and Rich Hoyt. I was able to buy their book, It's Only a Mountain, and have them sign it. If you don't know about Team Hoyt, check out their website. Two inspirational men.
Race Day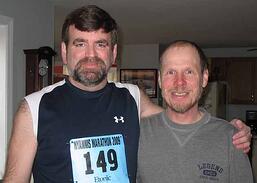 With a 10:00 am start, I was able to sleep in. When I went downstairs, David had started a fire in the woodstove. The warmth of the fire was a stark contrast to the cold, gray skies outside. Well, no one said running marathons would be easy.
Dolores and David dropped me off a few blocks from the race start. With about 4,000 runners participating in either the 10k, half-marathon and marathon, there was quite a crowd. I made my way to the desk to weigh in for the Masters Clydesdale, 190 – 210 lb division. I weighed in at 200 lbs, but I think the scale was off.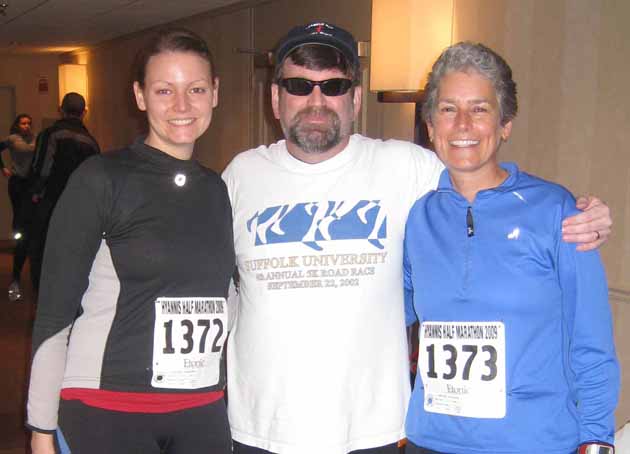 I found my good friend, Beth Fidellow. Beth is training to run her first marathon, the Boston Marathon, as a fundraiser. Along with her niece and nephew, Jenna and Doug, Beth will be raising money for Brigham and Women's Hospital. At Hyannis, Beth and Jenna would be running the half-marathon distance.
I lined up with the other runners at the 8-minute pace mark. The temperature had hit 40F, and it looked like rain would hold. The crowd blocked the wind, and I was able to get rid of my long-sleeved jersey. The race director shouted "Go!", and we were off.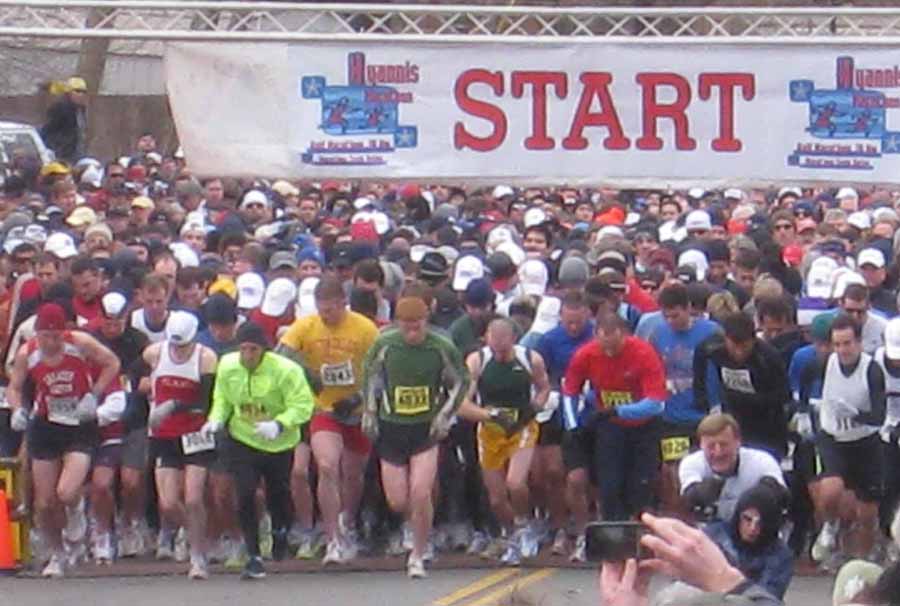 The Hyannis Marathon consists of two half-marathon loops. The half-marathoners and marathoners start at the same time, so it's a bit crowded. Like most races, after a quarter-mile, people have found their paces. I hit the first mile mark at 7:57 seconds. Right on target.
About this same time, I noticed a runner nearby getting a lot of attention. It was "Boston Billy" Rodgers, the man who won 4 Boston Marathons between 1975 and 1980. And he was running right in front of me at my pace! You could tell from the way he moved to the sides of the road he knew this course well. And the crowds knew him, yelling "Go Bill" as he went by.
At the 6-mile mark, Bill was right next to me, and I had to say something. I commented about much I was learning from watching how he ran, and the way he took the corners. He responded, "Yeah. I don't run any extra steps." Sound advice.
Bill, along with about three-quarters of the runners, peeled off at the end of the first loop to finish the half marathon. Along with the small band running the full marathon, I started the second half. I was still maintaining my pace and felt great. Then someone passed me. And not just anyone, but a fellow Clydesdale.
Being passed energized me. I decided that I would catch and pass one runner every mile. I picked out the person in front of me and got to work. For the next 10 miles, I passed at least one person per mile, and the strategy kept me at or very close to my goal pace, ranging from 7:50 – 8:06 per mile. Even when the rain started at mile 16.
At mile 22, I started to tire. This wasn't "The Wall" that I'd hit hard in my other marathons, but a gradual slowing down. I lost 90 seconds over miles 23-25, with an 8:32 average split. I would really have to run hard the last mile. I passed the fellow Clydesdale from mile 13, and gave it my all. Dolores and David were cheering for me at the finish. I still wasn't fast enough.
The Results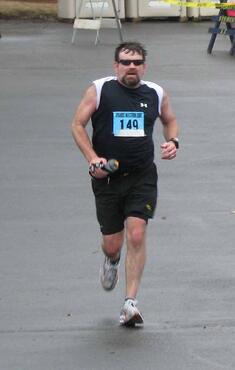 My 3:31:55 time means I don't get a Boston Qualifying certificate. My time did place me 72nd out of 374 finishers, 65thout of 255 males, and 22nd out of 75 in my age group. Also, I placed 2nd in my Clydesdale division. In fact, the man who won my division was the only Clydesdale in any division or age group to run faster than me. Not too bad.
What's Next?
I haven't chosen my next race yet. I want to let my body and spirit recover from this experience. The combination of being tired and disappointed isn't ideal for making sound decisions.
With every race, I've trained harder and run further. And with every race, I've run faster. That means if I train harder and run further again, I'll find those 56 seconds. And I will find those 56 seconds.
Thanks for reading, and thanks for your support!