2017 Fenway Park Marathon

It was the best of marathons, it was the worst of marathons.
There are few moments in life when you're given the opportunity to take part in a historic event. Being one of 50 people to run the first marathon held completely inside Fenway Park is one of them.

Race Preparation

The race consists of running 116 laps around the warning track. Each lap is roughly a fifth of a mile. Running in circles in complete flatness. For hours.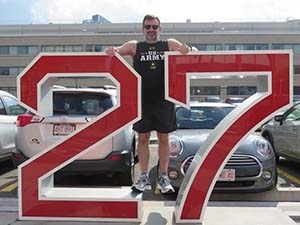 For my weekend training, I'd run over to a middle school about 4 miles from my house. I'd run 8 to 13 miles on the track, and then run home. Training was in the middle of summer, and I appreciated the water fountain. In a few weeks, I overcame the monotony by letting my mind wander, because I didn't have to worry about avoiding cars, and felt prepared for race day.

The other preparation for this race was in the form of fundraising. To qualify for the race, each runner had to commit to raising at least $5,000 for the Red Sox Foundation – a charity that makes a difference in the lives of children, veterans, families and communities throughout New England.

For weeks, I sent emails, wrote blogs, tweeted, and posted on Facebook. I was amazed at the generosity of so many people. Through their kindness, I raised $6,766.20. (the $0.20 is because one friend donated $26.20 – reflecting the 26.2 miles of the marathon).

Race Day

In addition to being 116 laps, the race had the unique start time of 5:00pm, a 3:30pm reporting time. The runners were assigned lockers in the Visiting Team's locker room. Then the 3 World Series trophies were brought into the locker room. We took turns posing and taking photos of each other. I'd never seen so many runners so happy before a race.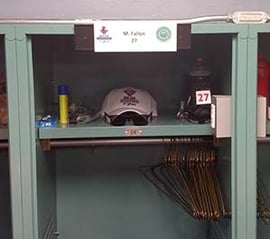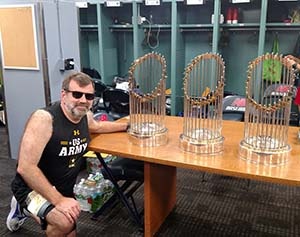 My bib number was 27, a special number in my life. My father, my mother and I were all born on the 27th. The best catcher whoever played the game (and my wife's all-time favorite) – Carlton "Pudge" Fisk – wore number 27 for the Boston Red Sox.

The race director was Dave McGillivray – the acclaimed race director for the Boston Marathon, who 39 years ago ran across the country from Medford, Oregon to Medford, Massachusetts to raise money for the Jimmy Fund. He ended his trek with a couple of laps around the Fenway Park warning track, and a dream was born. Tonight, we'd make that dream come true.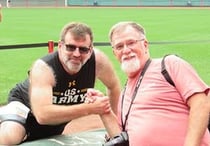 Before the start, we were allowed some time to walk around the warning track, drop off gear at the aid station and take photos. My wife was in the stands, and she texted me that my brother David was also there. Later, my nephew Jared and his girlfriend would join them. Some quick photos, and we were ready to begin.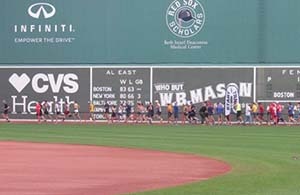 For me, the best race weather is between 40 and 50 degrees. It's why I love fall marathons. At race start, it was 75 degrees and vey humid. There was some light rain in the first few hours, but I struggled with the temperature.

My struggles were compounded by not knowing my pace. My Garmin was displaying a lot of strange paces – one second I was running 7:30 miles, and the next moment 11:00 miles. The monitor displaying our lap count short-circuited, and was out of commission for several miles. I didn't have a time goal, so I just ran by feel.

However, I wasn't feeling well. My body kept heating up despite staying hydrated. As I approached the halfway mark, I was already 15 minutes behind my normal 4-hour pace. I stopped and told my wife, "This is gonna be ugly." Her response – "But you like ugly." I ran away laughing.

Around Mile 16, the skies opened with a torrential downpour. It was just what I needed to cool down. However, it also meant the track was getting muddy. A fair trade-off.

That was also when I started using walk breaks. Run 5 laps and then walk. Which turned into run 3 laps, and then walk. Finally, run 2 laps and then walk. Relentless forward motion.

I used those walks to support – and get support from – my fellow runners. Several of us had met before for dinners, so there was already a connection. Other connections were made on the track. Complete strangers bond quickly when sharing the same challenge. We cheered on the people who were passing us, and cheered on those we were passing. It wasn't about individual finishing times, it was about all of us finishing. And we all did.

Spectators were packed along the First base line, so we were cheered every lap. I was wearing my US Army running shirt, and many people would yell, "Go Army!". Except for one group.

At the pre-race dinner, I met a Navy officer who was running the marathon. As I passed her family, they would "heckle me" with "Go Navy" or "Anchors Aweigh!". I'd respond with "Huah!" or "Army Strong!" When the Navy officer started her final lap – as the first female finisher – I yelled up to them, "Go Navy!"

But my personal cheering section – my wife – meant the most. For over 5 hours, including in the pouring rain, Dolores was there for every lap. Cheering me on, waving, taking photos and making a video. There was no way that I could have done this without her.

The Results

Counting down the last 10 laps felt great. Running the last lap felt even better. Crossing the finish line at 5:07:18 felt the best. You can watch my 5 hours, complete with rainstorms, in 2 and half minutes on this YouTube video.

My slowest ever marathon time, by more than an hour. My legs were spasming, and my chafing had chafing. I was in more pain than any previous race.

But I didn't care.

I was on the field at Fenway Park.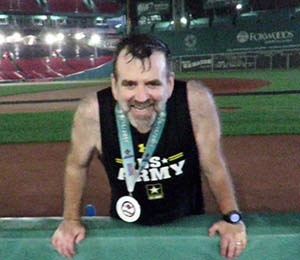 Thanks for reading, and thanks for your support.