My First DNF (Did Not Finish)
I didn't finish the TARC Fells Trail Ultra, so why a race report? Because we can learn from our failures. Especially when it was a fun day.
Race Preparation
Last summer, I injured myself while training for two fall races. While getting injured wasn't in my plans, it allowed me time to reflect andchange my perspective. I also realized there was a lot I didn't know about running.
On the recommendation of some friends and my physical therapist, I reached out to the team at Precision Endurance Coaching. Over coffee, I met with Mark Murray, and experienced marathoner and coach. I liked his style and approach towards the sport, and signed on to be his trainee.
Each month, Mark and I would meet to review my training and go over a schedule for the next four weeks. The plan was to gradually build up my mileage and endurance. We looked for a marathon or ultra in the spring to use as a benchmark for my fitness level. As usual, my business travel would heavily influence that decision.
I settled on the TARC Fells Trail Ultra (Vernal Equinox Edition). From the website, it looked like a challenging yet low-key event limited to 25 runners. A good choice for my "benchmark race". I signed up for the 32-mile option.
Race Day

How often do you see your name at the entrance to a race? However the sign and the sun did little to warm me up. The temperature was in the high 20s, with a cold wind. I had decided on wearing shorts with a jersey and jacket, knowing I'd be out on the trails for at least 5 - 6 hours. But it was cold waiting for the race to start!
The race director explained that the course consisted of 8-mile loops of the Skyline Trail. We'd pick up the trail about a half-mile down the road, and could run in either direction - clockwise or counter-clockwise. Just follow the white trail markers. Upon our return to the checkpoint at the end of each loop, a volunteer would write down our times.
And then we were off. I settled in behind the main pack of runners with the plan of keeping them in sight to make sure I didn't get lost. However, they were a lot faster than me, and were far ahead after the first mile. I let them go, and paired up with another runner Scott. He was training for the Vermont 100 this summer, and using this as a training run. We took turns finding, losing and re-finding the trail.
The first half of the loop was very rocky with lots of steep uphills and downhills. The last 3-miles were easier, and we were able to pick up the pace. It took us 1:43 to finish the first loop, about 15 minutes slower than we'd hoped. We decided to run the second half in the opposite direction to see if that helped. It didn't, and we ran that loop in 1:50.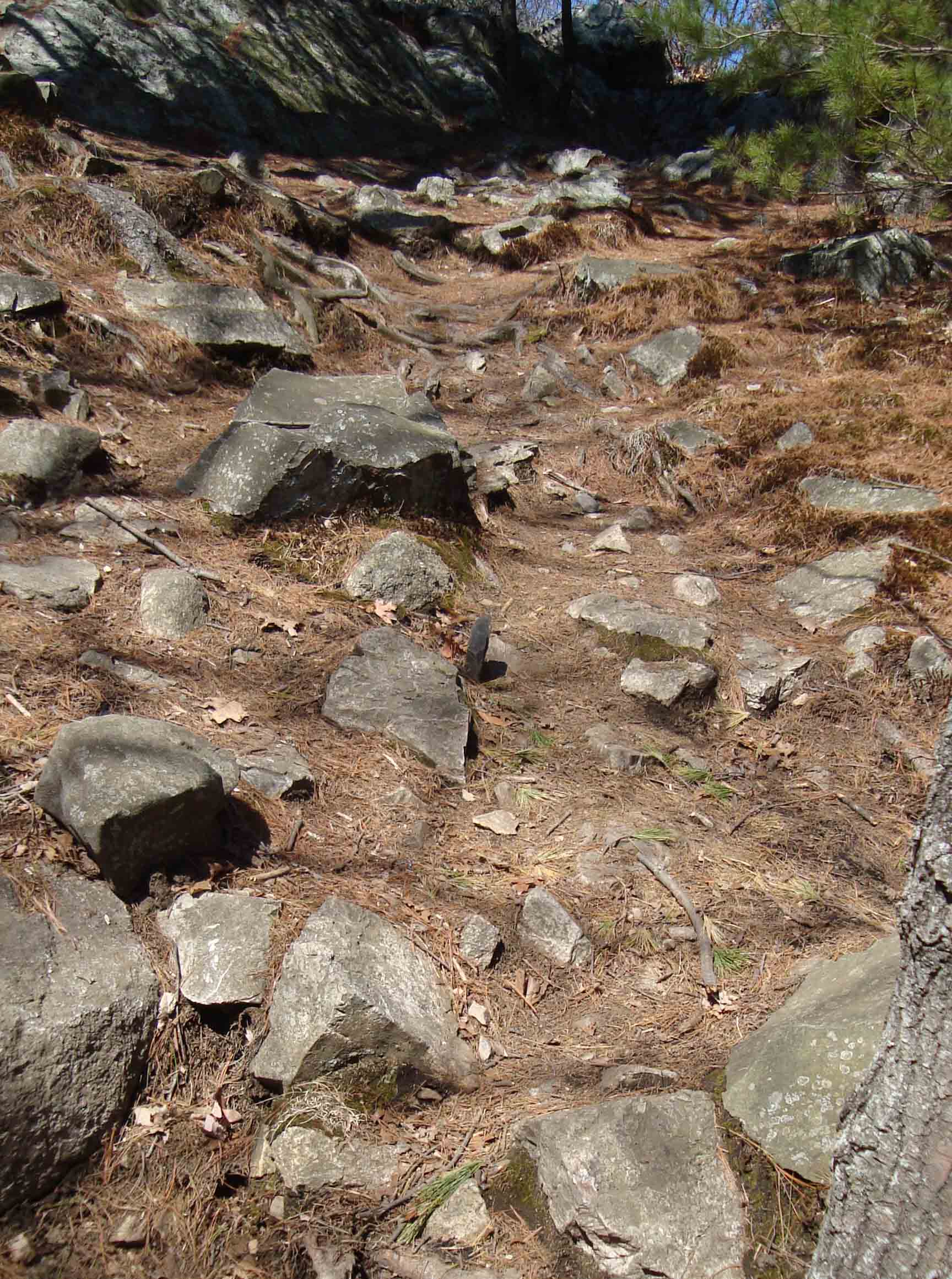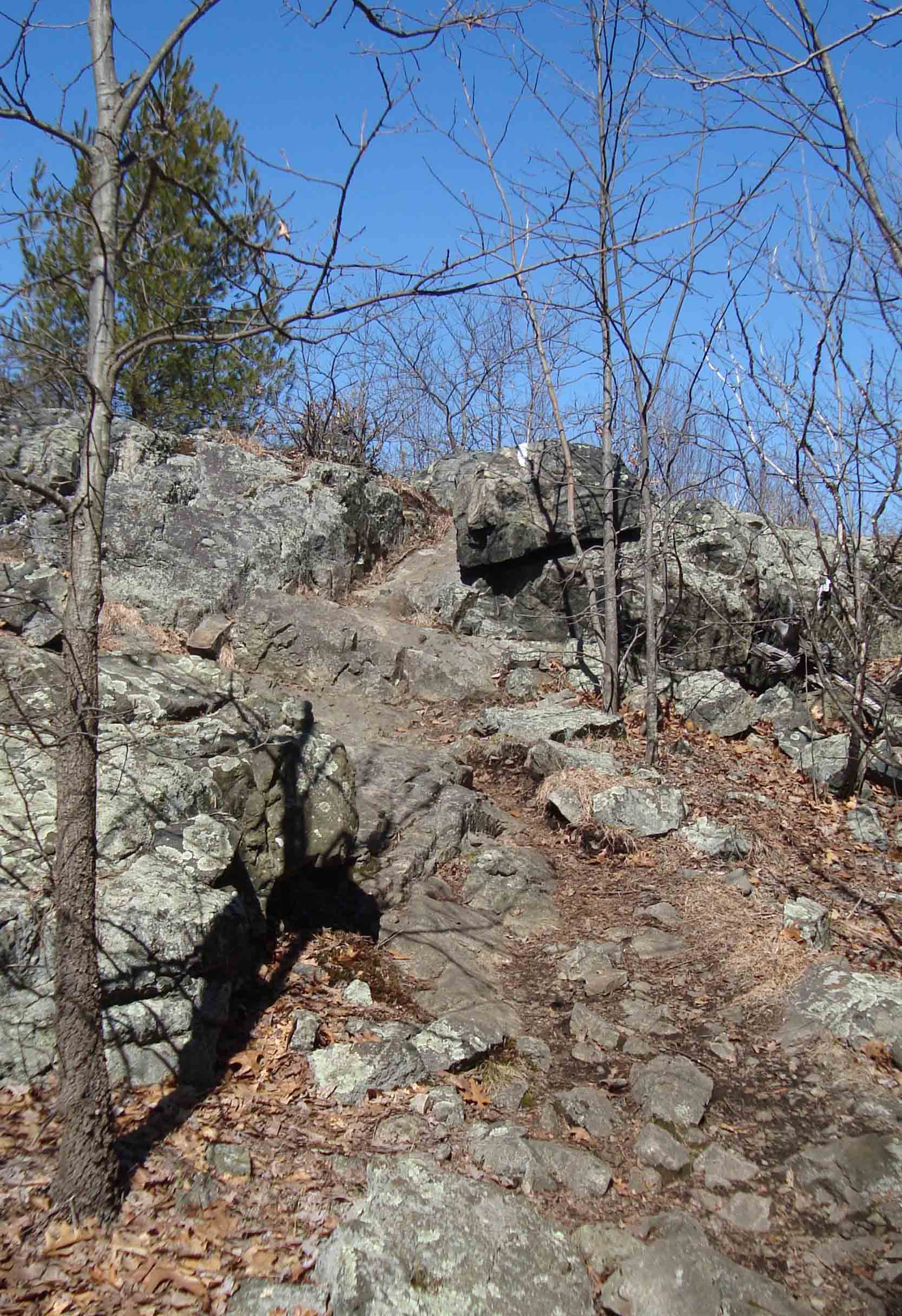 I knew that I was going to hit my time goal, so I let Scott know I'd be taking photos during the 3rd loop. I felt I was slowing him down, and told him to keep at his pace. We stayed together for another mile or so, and then I was running alone.
As I hit the hardest part of the trail, I became a little discouraged. Holding the camera became a hassle, and I was second-guessing that decision. Then I reached the highest point, with a beautiful view of Boston. I love the city, and the sight of the skyline rejuvenated me.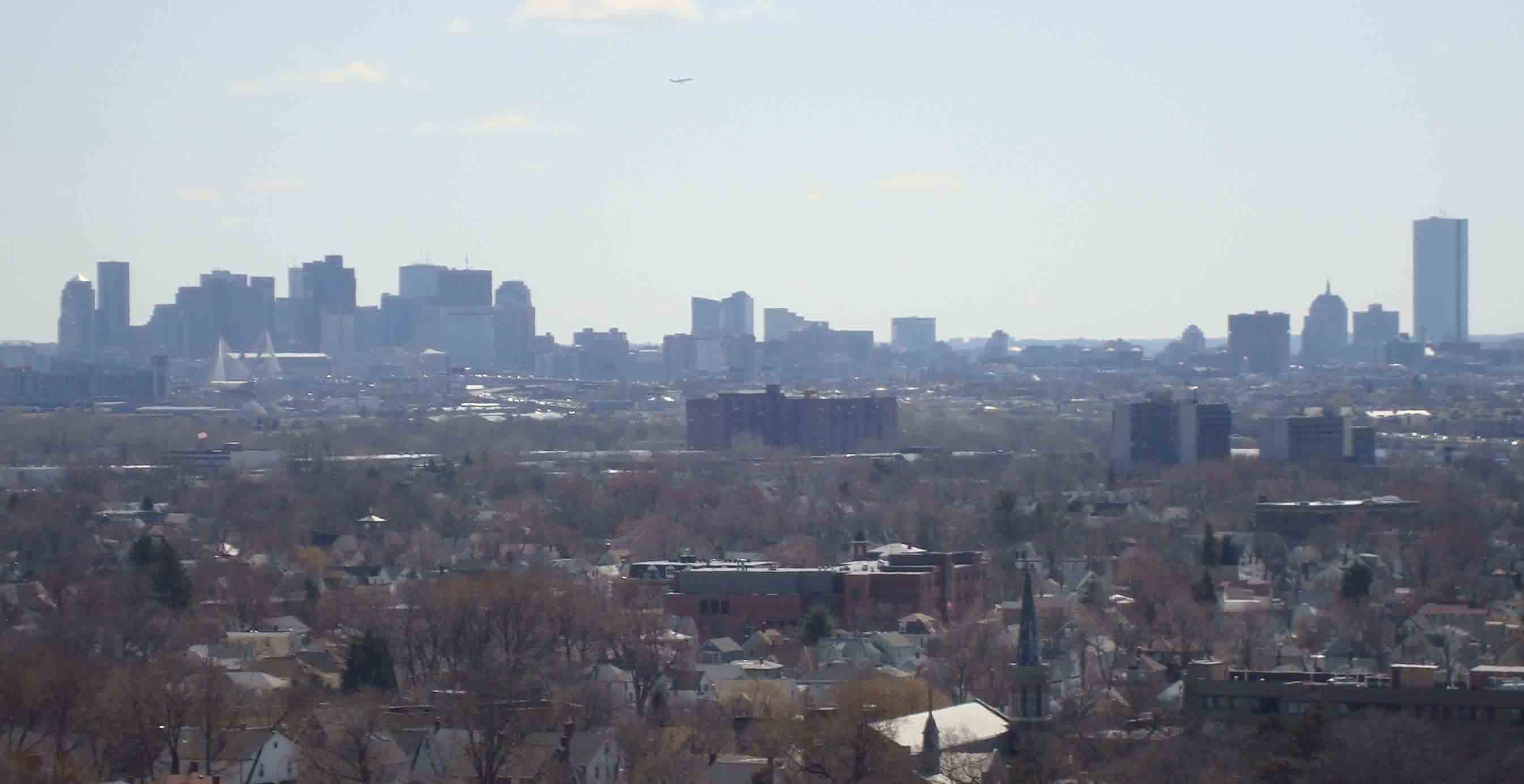 Then I was back to the "easier" section. I was encountering a lot of hikers enjoying the day. There were the runners who had taken the opposite direction on the loop. Then I was passed by a few runners who were a lap ahead of me. It was amazing how effortlessly they moved over the trails. It was as if the rocks and roots weren't even there. Watching them helped me regain my confidence, and I remembered why I run long distances.
I was about a mile from the aid station when my left foot slammed into a root or rock. I knew I was going down, and was able to turn so the side of my body bore the brunt of the fall. Landed as well as could be expected. Got right back up and started forward.
Ouch! The pain in my foot was excruciating. I walked for a bit to loosen it up. Then I tried to run. I was able to get my pace back up to a shuffle. I hit the road to the aid station and was starting to feel better.
While at the aid station, I decided to drop off my camera in my Jeep. As I walked back to the start, the adrenalin had worn off, and the pain returned. With interest. I thought about what running on my foot for two more hours would be like.
Realizing that I would only aggravate the injury, I let the volunteers know that I was dropping out.
The Results
I completed 3 laps, or 24 miles, in 5 hours and 56 minutes. I also had dropped out of a race, and would have a "DNF" or "Did Not Finish" next to my name on the results.
The aid station volunteers, along with the other runners who were hanging out at the finish line, were really supportive. They told me that it was a tough course, and that I had done well. I complimented them on a great race, and that they looked great running by me.
As I headed to my car, my good friend, Jim Chiavelli pulled up. How good of a friend? When he got out of his car, Jim was drinking a cup of black coffee. I asked for a sip. A minute later, I asked if I could have the whole cup. He handed it over without a second thought.
What's Next?
The purpose of this race was to benchmark my conditioning after coming back from my earlier injury. Until I hit that rock, I was doing okay. Running along the trails was both tough and enjoyable. After going through a low point, I was really enjoying myself. The Middlesex Fells Reservation is a beautiful place to spend a day.
I know that stopping was the smart move. I was recovering from an injury, and this wasn't a "goal" race. The fact that I could handle 6 hours on the course demonstrated that my ankle and tendons were recovered. And my foot's bruising and swelling the next day reminded me it would've been worse if I'd attempted another loop.
Of course, I'd be less than honest if I said that stopping didn't bother me. It was the first time I dropped out of a race. Second-guessing my performance happens after every race, and this is no exception. I'm no longer sure of what my goals for the remainder of the year will be. I'll take a few days off to let the foot heal, and start some slow running. Then I'll get out the calendar and make some decisions.
Thanks for reading, and thanks for your support!