Des Moines Marathon
On Sunday, October 19, 2008, I ran my latest marathon in Des Moines, a great place I get to visit to work with clients. I used my trips over the summer to run parts of the course.
Many marathons will have pasta dinners for the runners the night before the race. I decided to have a pasta dinner with the friends I've made at Wellmark Blue Cross Blue Shield, other friends I've met during my visits, and a friend from Boston who'd moved to Des Moines.
I had my iPod playing my running music in the background. My "marathon" playlist includes country, blues, rock, folk and 80's music. There was something for everyone.
Race morning.
Brewed some coffee and started hydrating. Followed my planned routine - water, coffee, Carnation Instant Breakfast, more water. Then stretching, hot shower, and more stretching. Checked and re-checked all my running gear. All systems go.
Walked over to the race start four blocks away. It was about 45 degrees F, which is perfect for me. There was a steady wind, but it was from the south, so it wouldn't be a factor during the toughest parts of the race. I had signed up to follow a pacer, someone who will set the pace a runner needs for a specific time. I looked for the 3:30 group, my goal time. The runner leading this group was experienced - this would be his 198th marathon.

I introduced myself to the pacer and other members of the group, and then turned on my Garmin GPS device. I wear a Garmin 305 Forerunner with heart rate monitor. I waited for the GPS to find the satellites. When it was ready, it would show my pace, completed distance and heart rate. I checked out my heart rate - 90 beats per minute (bpm). Much faster than it should be, but I knew it was just adrenaline.

The Marathon
The race begins. It's a little slow at first, with thousands of people trying to share the road. However, most people had lined up according to the pace signs, and the crowd smoothed out quickly. We quickly hit the 8:00 minute per mile pace needed for a 3:30. But then, we were running faster. And faster.

I looked at my Garmin, and the readout said we were running a 7:40 pace. Was my device off or the pacer? I let him pull away a bit, maybe he'd slow down. I passed the 1-mile mark at 7:43. The pacer was now even further ahead of me. I knew I'd burn out if I tried to keep up that pace (I've done it before). So, I decided to trust myself and settled into about a 7:50-8:00 pace.

At mile 3.5, my friend Siobhan and her daughter Allison were there to cheer me on, complete with a sign. It was a great boost.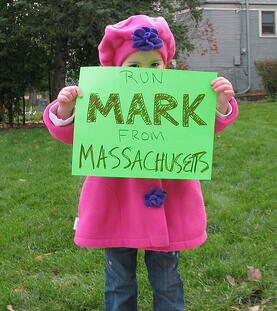 And I needed that boost, because it was the beginning of the hilliest part of the race. About 5 miles of up and downs that would last through Mile 8. I had run this section during my training, and had a plan to manage my pace and energy. The crowd had thinned out, so I had plenty of room to cut the corners close.
As we came out of the hills, I noticed a woman next to me who was running at the same pace. She had run the downhills faster than me, while I would catch her on the uphills. It seemed that we were running the same pace. The difference? She had a smooth, easy pace, was waving "hi" to a lot of the spectators, and didn't look like she was expending much effort at all.
I had found my new pacer. For the next 10 miles, we maintained a steady, 8:00 pace, through some beautiful neighborhoods, around the Drake University track (home of the Drake Relays), and then back down the hills. We hit the half at 1:43:59, almost exactly on pace for a 3:30 finish.

At mile 19, it seemed my pacer was pulling away. I checked my Garmin. She wasn't going faster, I was going slower. My legs were getting heavier. It seemed "the wall" had arrived. I had mentally prepared for this moment, and told myself to relax and everything would be fine. When I hit the 20-mile mark, I had slipped to almost 20 seconds below my goal pace. No problem. If I could get back to an 8:10 pace, I would only finish about 60 seconds slower than my goal, and still squeak out a Boston Marathon qualifying time (3:30:59).

As I tried to pick up my pace, I felt a twinge in my left hamstring. Hmm, never felt that before. Slowed down a bit, and before I know it, I'm at mile 22, and further behind my goal. Time to run harder. OUCH! The twinge in my hamstring was now a stabbing pain. It felt like someone was twisting and pulling it away. There was only minor relief when I slowed down. Every time I tried to speed up, the pain got worse. I've run through pain before, but this was at a level I'd never experienced. It felt like the hamstring was going to snap.

My primary goal time was now an impossibility. Time to be smart. I slowed to a pace where the pain was bearable, but I was still running. Soon, we were on the main boulevard heading towards downtown. One mile to go. The sun was out, and the winds were only a cross-breeze. We turned left up 3rd street, and I could see the finish line. Just a few more blocks.

The Results


I crossed the finish line with a time of 3:38:13. That placed me 237 out of 1,230 marathoners, 201 out of 797 male runners, and 20 out of 91 men aged 45-49. Slower than my goal time, but almost 9 minutes faster than my last marathon. Progress.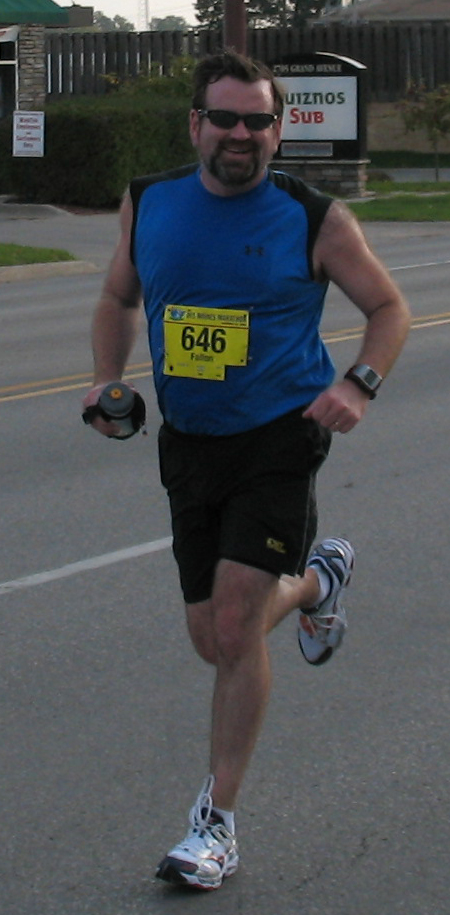 That night, Siobhan and her family invited me to their home, and treated me to wonderful meal of porterhouse steak, acorn squash, rice, green beans, bread and amazing apple pie for dessert. Their friendship and hospitality meant a lot.
Monday morning, I ran a very slow 2 miles to conduct a systems check. Hamstrings, fine. Calves, sore but not tender. Back, very good. Headed to the airport for the flights home.

What's next? I'm not sure. As my newsletter readers know, mygoal of qualifying for Boston means a lot. I'll use my recovery time to map out a new route to get there.
Thanks for reading, and thanks for all your support!
PS: The Runners World Forum
At the start of this training cycle, I joined an online discussion group on the Runners World website. As part of the Marathoners forum, some of us post our runs on the "dailies" section, including distance, pace and how we felt that day. We share goals, ask questions, offer advice, and most importantly, we support each other.
In the online world, we use screen names, mine's TheBeardedMan (sometimes shortened to "Bearded" or "TBM"). My fellow forumites include people who go by drdew, career student, Arctic Blast, tattooed fat man, and jjjrunnergirl. We have people from the United States, Germany, Israel, Australia and Tangiers.
I've learned so much from the more experienced runners about pacing, training and recovering. Most of all, I've been lucky to receive the encouragement and support from a group of people with a positive outlook on running and life. Thanks.