2015 Cox Providence Marathon
And I hear tell the road to hell is paved with good intentions
And Mama, my intentions were the best
- Randy Travis, "Good Intentions"

My 2014 running year ended on a high note, and I started planning a race calendar for 2015. Maybe a relay with some buddies down south. Maybe a military marathon with some different friends. Maybe both of those ideas wouldn't work out. So, I found a marathon close to home – the Cox Providence Marathon on May 3. Plenty of time to adjust my training schedule.

Race Preparation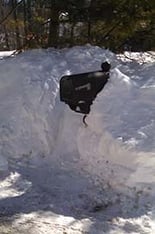 Then it started to snow. And snow. For almost a month, it snowed every day. By the time it stopped, we had over 110 inches of snow in my town. Plenty of "cross training" by shoveling out my walk and mail box. But what about running?

I enjoy running in the snow. It's a lot like trail running – shorter strides, slower paces, changing terrain, etc. Also, there's less traffic on the roads, so it's quieter. I stayed off the main roads and close to my house, often running multiple loops in my neighborhood. Not always fun running up and down the same street, but it's safe.

The weather stayed cool through March, and I still had snow on my front lawn until mid-April. Then on race week, it started to warm up. Quickly. Looked like another challenge added to the 26.2 miles.

While I was able to hit most of my mileage goals ths winter, speed work was out of the question. That translates into not knowing what pace I should plan for the marathon. I was confident I could break 4 hours, and wondered if I could beat 3:50. Only one way to find out!

Race Day

Providence is only a 45-minute drive from my house, and the race start was at 7:30. Woke up, stretched and enjoyed coffee and a bagel. Light traffic on the roads, and I made it to Providence by 6:30. Cloud cover kept it cool, but the temps crept up to almost 50F degrees by race time.

The start was delayed about 15 minutes due to a traffic accident on the course. You could feel the nervousness building in the starting corral. Then the National Anthem played, and moments later we were off. I looked for some open spots in the pack, near the 4:00 pacer. But he was running too fast, and the first mile was 8:22. I slowed down to a more comfortable 8:34 for the second mile. Felt good.

Just after the 2-mile mark, I caught up with a friend of mine, Tracy. In addition to marathons, Tracy also runs multiple-race events and ultramarathons. She introduced me to Pam and Jim, 2 friends from her running club, the Tri-State Runners. The goal of the group was to work together to help Pam finish in 3:45. Sounded like a good plan, so I joined the pack.

Over the next 2 hours we had fun chatting about different races – past and future. Jim had a pace band designed specifically for this race, and he kept us on track for the goal. Pam's family would "leap-frog" us, and cheer us on at different parts of the course. Every time we passed them, the energy increased, and the pace would pick up.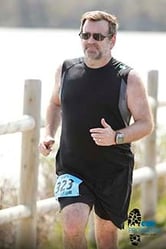 The race follows an "out and back" course along the Narragansett Bay. The first half is on city streets, but the second half is mostly on a paved bike-hike path with some beautiful views of the bay. This was also when the clouds dissipated and the sun got stronger. And the temps got higher.

Around Mile 18, I started to cramp in my left glutes. Seems I had started out faster than I should, and now would pay the price. I told the others that I was going to slow down and wished them luck. Tracy said she would wait for me at the finish.

Around Mile 20, the hills started. Long, steady inclines followed by a short, steep hill. Now my quads started to burn too. Pace slowed down to 10-minute miles. The last 10K was going to be tough.

At the 25-mile mark, it was almost 70F degrees, and the rest of my body decided it would better if the race was over. My back, shoulders and calves joined the glutes and quads in protest. That prompted a series of discussions and bargains I would agree to, if they would just hold together a little longer. Grudgingly, we reached a compromise, but they wanted this over soon!


The Results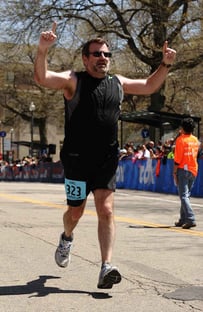 The last block of the race was lined with spectators on both sides. I waved my arms, encouraging people to cheer the runners on. My legs thought this was showboating, and sent a sharp reminder to my brain to just focus on finishing. I flashed the "Number 1" sign for the cameras, and crossed the timing mats.

I finished close to my original goal, with an official time of 3:51:13. That put me 345th out of 1107 finishers, and 36th out of 97 men in my age group.

I found Tracy, Pam and Jim near the finish line, and they were sporting big smiles! They finished with a 3:46. That meant Pam had qualified for the Boston Marathon, and Tracy has a new personal best by over 20 minutes! Woot! They made me an honorary member of the Tri-State Runners, and even let me be in the group photo. Nice people who are great representatives of the running community.

Resting and letting the legs recover. I think I'll wait a bit before making any decisions about the fall. Until then, I'm just looking forward to returning to the roads.

Thanks for reading, and thanks for your support.