Clarence DeMar Marathon
I was looking for a New England race, and the Clarence DeMar Marathon in Keene, NH looked like a perfect fit. A late September race would mean cool temperatures and beautiful fall foliage. Plus, it's a small race, which I prefer.

Race Preparation

2013 has been a year of many challenges – personally and professionally. Sometimes we recognize the impact of events when they occur, other times the cumulative weight sneaks up on us. For me, it's been the latter – no breakdowns, but many days when my energy level isn't what it should be.

This was very noticeable in my training, especially speed work. From the beginning of the cycle, I couldn't find that extra gear needed for quality tempo runs. I recognized my fatigue, and weighed my options. Instead of training for a PR (Personal Record), I would train to finish the marathon. Focused on form and enjoying my training runs, including 4 long runs of 20 miles or more.

But I still needed some type of plan for my pacing. Most of my daily run paces were between 8:20 and 8:40 per mile, and my long runs were around 9:00 per mile. I set a goal of 3 hours and 45 minutes, planning to start off at an 8:30 pace, and see how things progressed. The most important goal was to enjoy the race.

Race Day

Left the house around 4:30 for the 90 minute drive to Keene. I had set up my coffee the night before, and it tasted wonderful. The skies and the roads were clear. A great start to the day. Arrived at Keene State College, and got on the bus to the start line.

My seatmate on the bus was Larry, who was using this race as his last long run before the Marine Corps Marathon. I noticed a CIB ("Combat Infantryman's Badge) on his visor. "Vietnam?" "No, Korea." Larry is 79 years old, and actually helped build the dam we would run across during the race. Huah!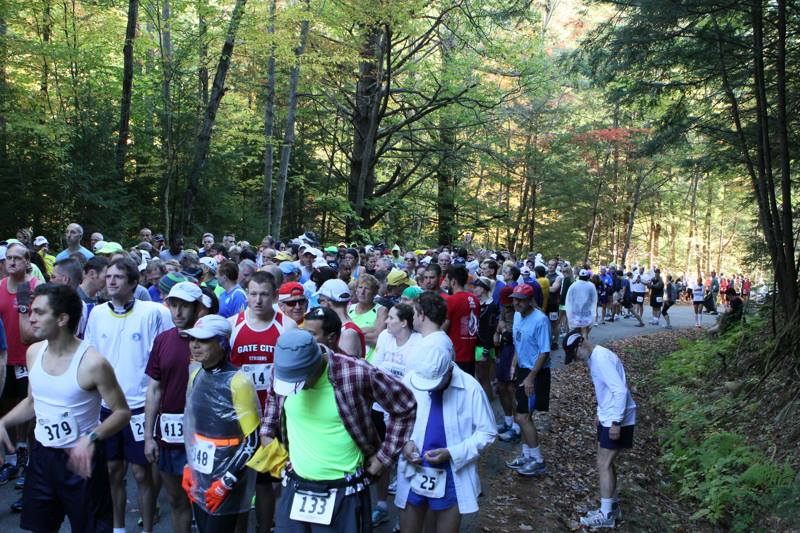 Registered, dropped of my drop bag and hung around waiting for the race to begin. It was 44 degrees and everyone was trying to stay warm without burning up too much energy. The sun began to crest over the hills and there wasn't a cloud in the sky. Around 7:45, most of us began the half-mile walk to the start line. A little bit more waiting, the race director said something only the people at the front could hear, and then the starting gun. We were off.

The first half of the race follows the Ashuelot River. It's mostly downhill (almost 1,000 foot drop in elevation) with a few uphills. The scenery lived up to my expectations. With the trees, the river and the cows, it was almost like running a trail race. Just without the rocks and roots to trip over.

I tried not to run too fast, keeping my pace around 8:20-8:25. Got carried away a couple of times (8:14, 8:15), but was able to stay close to my desired pace. At mile 12, we crossed and recrossed the Surry Mountain Dam (which Larry helped build) and were treated to even more amazing views. Hit the half-marathon mark about 1:50, and still felt good.

The course isn't closed to traffic, and around mile 15 there were many more cars. All the vehicles kept their speeds down, and most gave the runners plenty of room. Most. But I was still feeling good, and was able to stick with the 8:22 – 8:29 pace.

At mile 20, I decided to play the "can I pass more people than pass me" game. First two targets – two other bearded guys! At mile 21, we left the traffic, entered a park and ran on the Appel Trailway. Still felt strong and passed several more runners.

A unique aspect of this course is that Mile 23 passes through two cemeteries – Greenlawn and Woodland. Beautiful scenery, but quiet crowds. Climbed a hill to pass an old chapel and some other runners, and then a second hill took its toll. Felt a runner on my side. It was one of the bearded guys from Mile 20. I smiled and said, "Figures I would die in the cemetery." He laughed and urged me on. We ran the next quarter a mile together and he ran ahead. First and only runner to pass me since Mile 20 (Note: he looked familiar, and I found out later he works up the street and runs in my neighborhood).

Mile 25 felt a bit slow (8:40) so I picked it up for Mile 26. And the final 0.2.

The Results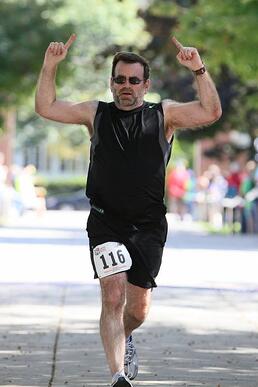 The first real crowds were lining the finishing chute at the entrance to the college. Never felt stronger at the end of a marathon.
Official chip time – 3:41:05. That placed me 93rd out of 410 marathoners and 21st out of 62 men in my age group (50-59).

Time to rest, recover and look for the next challenge.
Thanks for reading, and thanks for your support.