2014 Clam Chowdah Challenge
After a tough spring marathon, I looked for an ultramarathon to run in the fall. However, there were no nearby races that fit with my travel schedule. While browsing through some running websites, I noticed something interesting – the "Clam Chowdah Challenge" in Falmouth, MA. The challenge was to run a half-marathon on Saturday October 25, followed by the Cape Cod Marathon on Sunday, October 26.

A race on Cape Cod in the fall? A start line only 2 blocks from one of our favorite inns? Race swag that included a massive chowder cup? Sounded like the perfect weekend!

Race Preparation

While my mileage was lower than planned, I was nailing my speed work and felt strong. Two weeks before the race, I ran the Army 10-Miler with classmates from my ROTC days. I pushed myself harder than planned during the race, and felt great at the end. A good sign and confidence booster.

I set my goal to run a combined time of the two races in 5 hours 45 minutes. I would take it easy on the half-marathon, with a goal of 1:55 - 2:00. On Sunday, I would push harder, with a goal of 3:45.

Race Weekend

My wife took Friday off, and we drove down to Falmouth. After checking in at the inn, I drove over to the expo. Much smaller than most races, but still crowded with a fun atmosphere. I was able to pick up my half-marathon and marathon shirts, but would only receive the Chowdah Challenge shirt if I completed both races. More motivation.

Saturday morning, the half-marathon start was at 7:30. There was a coffee maker in the room, so I had a cup before heading over. It was cool (about 40 to 45 degrees) with a breeze, but that still means shorts and no sleeves for me. I got a chuckle out of the runners wearing long pants and coats. And some of them got a chuckle out of me.

Found my way to the start. A few announcements, the national anthem, and then a cannon announced the start of the race. I started off at an 8:40 – 8:45 pace. It was a little crowded for the first mile, and then there was plenty of room. And the ocean.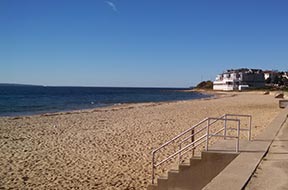 I've run in many different places, but there's nothing like running along the shore. The skies were a crisp fall blue, the wind was cool, and the views of Martha Vineyard were spectacular. Couldn't help but smile. Kept my pace and enjoyed the day.

Around Mile 10, I was still feeling great, so I decided to pick up the pace. Finishing just a little faster would give me a cushion for Sunday. Plus, as any runner will tell you, it's fun passing people who passed you earlier. I pushed hard the last mile, and finished at 1:51:33. That put my 208 out of 957 finishers, and 21 out of 51 men in my age group. And gave me a 9-minute cushion for Sunday.

We spent the day driving around and taking photos, including Nobska Light, which I would see at Mile 23 during the marathon. Looking down the hill gave me pause. I would definitely need energy at this point tomorrow.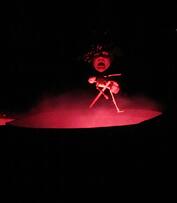 Afternoon nap. Witches cackling around a cauldron next door. Early dinner and early to bed. The marathon had a later start, 8:30. The innkeeper started breakfast at 7, so I was able to enjoy a toasted bagel and a cup of coffee. Dolores walked with me to the start, quick kiss goodbye and found my place among the masses. "America the Beautiful", another cannon, and another start.

The first half of this race is mostly flat and the second half is mostly hills. As my friend Bill Landers likes to remind me, in a marathon you don't bank time, you bank energy. With a goal of 3:45, I started off at an 8:35 pace. Sometimes I let it slip to 8:40. Lots of miles to go.

We follow the half-marathon course and I'm enjoying another beautiful day. I hear "Go Mark" and look up to see my friend Jackie yelling from a balcony. Bonus smile! We turn inland and enjoy wonderful tree-lined streets. There was also a relay race for the marathon, so that meant crowds every few miles.

Around Mile 10 or so, I catch up to a man with a "USMC" tattoo. The Marine Corps marathon was taking place in Washington DC the same day, so I said, "Marine, aren't you at the wrong race?"

He laughs and explains he didn't know that when he signed up. This was his first marathon, and he had a 3:45 goal too. So we ran together, swapped stories about our service and why we were running the race. He had friends following him on bikes, checking in on him every few miles. He would walk through the water stops. I just slow a bit while drinking, so we would separate for a few minutes, he would push to catch up and then run together again. After the stop at Mile 18, he slowed further, so I was on my own again.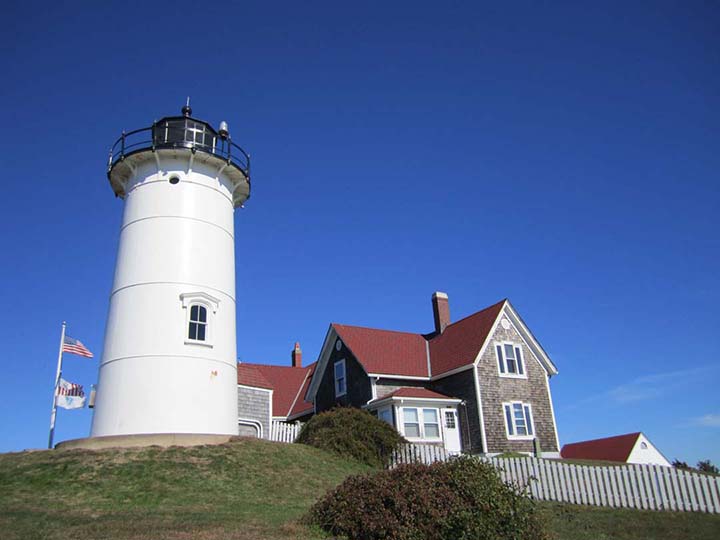 This was right in the middle of the hills. I saw my pace slow further from 8:40 to 8:45. I used the downhills to regain my speed. Then there would be another hill. When we got to the lighthouse I breathed in the salt air, hoping it would energize me even more. But I was slowing.

The next two miles were flatter, but even the small hills felt like steep climbs. The cumulative effects of the miles were taking their toll. No real pain, but no energy either. With a mile to go, I took a walk break. Just a minute. Then ran a half-mile. Then a walk break. Then the turn onto Main Street, hearing the crowds cheering and the finish line in view.

The Results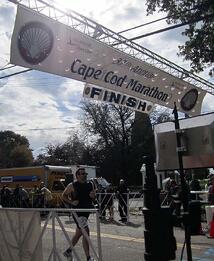 I pushed through the finish line, happy to be done. Dolores was right there, with my jacket, a hug and her shoulder for me to lean on. Then I received my medal and lumbered over to the village green to lie down. After a few minutes, I got back up and went to the inn to shower and change. Then off to high school to collect my Chowdah Swag!

The marathon was a bit slower than I had planned – 3:49:09. That put me at 146th out of 786 runners and 14th out of 81 men in my age group.

The combined time for the Chowdah Challenge met my goals! 5:40:02 for the two events. Placing me 16th out of the 62 other crazy runners who thought this was a good way to spend their weekend.

Time to rest up and let my legs recover. There's already a couple of running events on my 2015 calendar, so it's shaping up to be an interesting year.

Thanks for reading, and thanks for your support.