The Boston Marathon
By car, it's less than 4.5 miles and 10 minutes to the start line of the Boston Marathon from my house. However, to qualify and train for the event, it took 5,398.44 miles and 3 years to get there.
Race Preparation
A popular saying among runners is that "A training plan should be written in pencil." That adage proved true for me, as minor injuries and lots of travel made me adjust my plan several times. My right foot suffered plantar fasciitis, a blister (the first in over 25 years!), and a minor fracture. While New England had a mild winter, I had the luck to travel to Fargo in February, and experienced running in -17F weather. That's before wind chill. Overall, I ran in 6 different states in 14 weeks.
The week before the marathon was the largest conference in my industry, the National Postal Forum in Nashville, TN. So, my taper plan was adjusted to include presenting classes, walking the trade show floor, hosting dinners and enjoying the Nashville music scene. None of these activities are promoted in any of the training books I've read, but I enjoyed them anyway.
Race Weekend
An integral part of my running life over the past two years has been the Marathoners' forum on the Runner's World website. Most important has been the mutual support and encouragement from the "Dailies" crew, a group of people who post their training and thoughts in a thread dedicated to each day. Whenever I feel even slightly discouraged, a few words from this group helps gets me back on track.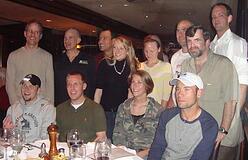 On the Saturday evening before the marathon, I had the chance to meet some of these people in person. Eleven of us, along with spouses, family and friends, got together for dinner at Papa Razzi, just a few blocks from the finish line. It was a wonderful evening, and a great memory for this race.
Unlike my past marathons, I wasn't staying at a hotel. Instead, I was able to have a quiet evening at home, make my own pasta dinner, and sleep in my own bed. A great change of pace.
Race Day
My strategy was to start at an 8-minute mile pace, and hold on for as long as possible. I knew my training wasn't optimal, but that didn't mean I couldn't be optimistic. If my legs couldn't keep up, then I was prepared to slow down. I wanted to enjoy every moment of my first Boston Marathon.
After a rainy, cold weekend, the morning of the race brought beautiful spring weather, about 45F with a few clouds. We left the house around 7:30, and picked up some of my out-of-town friends at nearby hotels. More photos, and then off to Hopkinton State Park to get on the busses to the start.
This was the largest marathon I'd been in, and it was amazing to see all the runners, supporters and volunteers. With 114 years of experience, the organizers knew what they were doing, and before long, it was time to head to the start corrals. The corrals are based on your qualifying time, so I knew that I was surrounded by runners as fast as me, if not faster.
A few minutes before the start, I saw my friend Bill, one of the people from the Runner's World dinner. Over the last year, Bill has run 10 marathons in 10 states, finishing each with a Boston Qualifying time. We've exchanged a lot of messages and emails discussing Boston, and shared similar goals. Now, it was time to execute those goals.
We heard the starting gun, but had to walk over 10 minutes just to get to the start line. Usually it takes about a quarter mile for the pack of runners to break up. However, that wasn't the case here. For the entire 26.2 miles, I was surrounded by other runners. It was enjoyable and disconcerting at the same time.
Bill and I ran together, reminding each other to speed up, or slow down as necessary. The crowds were fantastic, and we were having a blast. Soon we were at the halfway mark, and right on pace for our goal for a 3:30 marathon.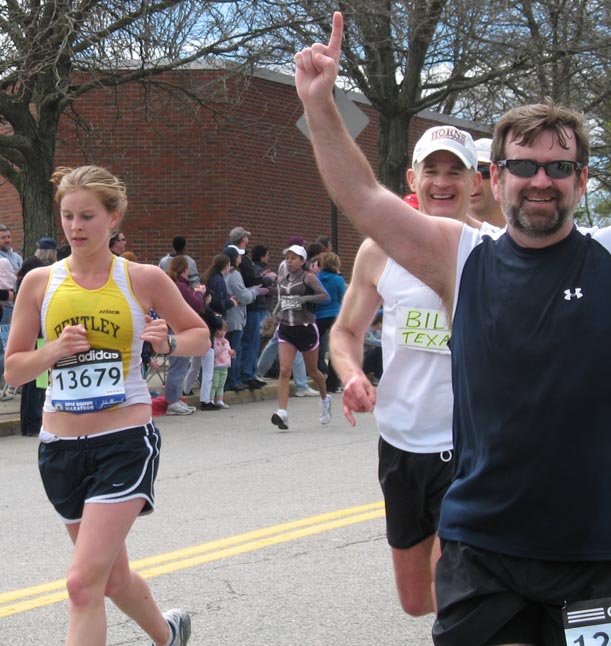 About a mile after the half, I knew I would see members of my family. My sister, brother, nephew and niece were yelling my name from the sidelines. Just a bit further, I saw my wife, and called out her name. A quick photo, and quick kiss, and I was off for Round 2.
My spirits were lifted, but my legs were tiring. Add to that some cramps, and I knew it wasn't going to be a goal day. Around Mile 14, I let Bill know that I was slowing down, and that he should keep going. He graciously offered to stay with me, but I told him I was fine. It was time to just enjoy the race.
A few miles later were the hills of Newton, including the infamous Heartbreak Hill. I train on hills, so this section wasn't that bad. What was surprising was the downhill section leading into Boston, and the effect it had on my legs.
Fortunately this area is lined with crowds of Boston College students cheering us on. A couple of high-fives and I was back on track.
Just a few miles more and I was running through Kenmore Square, home of Fenway Park and my beloved Red Sox. More high fives. Just one mile to go. The crowds were getting larger. Soon, I was turning onto Boylston Street and could see the finish line. I encouraged the crowd to cheer louder, waving my arms and holding up the victory sign. I had finished the Boston Marathon.
The Results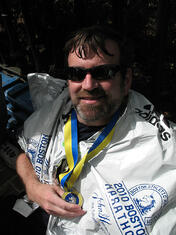 My official time was 3:42:11. I placed 10,676th out of 22,540 finishers, 7,710th of 13,072 male runners, and 1,511th of 3920 runners in my age group (45-49).
After getting my water, blanket and finisher's medal, I made my way to where I knew my wife would be. As an added surprise, my family members were there too. It meant so much to see them there. Thank you, Lisa, Sean, Jared and Rachel. And thanks to my wife, Dolores, for her continued support.
What's Next?
I haven't made any plans for my next marathon or ultramarathon. My focus for the last few months has been just about this event. Growing up here, the Boston Marathon has been an almost mythic event in my imagination. After the race, a good friend asked me, "Was it all you expected?"
The start line in Hopkinton. The "wall" at Wellesley. Heartbreak Hill. Kenmore. The roar of the crowds in Copley Square as I crossed the finish line.
Yes, it was all I expected. And then some.
Thanks for reading, and thanks for your support!