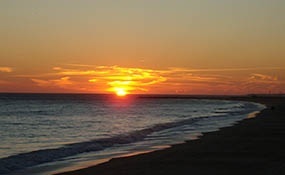 I love mornings. Waking up right before the dawn. Listening to the sounds of the world awakening. Hearing the songbirds announce the first moments of light.
I ease into my daily rituals. A quick check of email. Look over my latest writing project. Roll the kinks out of my legs. Pick out a route for that morning's run.

Ah, the run. Sometimes I'm amazed at how important the run is to the rest of my day. Getting my heart, lungs and legs moving. Breathing in fresh air. Enjoying the freedom of being detached from a smartphone or laptop. Letting my mind wander, perhaps finding the right word or phrase that will best express my thoughts in my next blog.

Cool down and get the coffee ready. Catch up on the news while eating breakfast. Whenever possible, read a chapter from my current book. Then start answering emails and completing the paragraph I was stuck on yesterday. Refilling my coffee cup, I glance at the clock. It's almost 9:00, and time to start the business day.

While the running, laptops and smartphones are new additions to my life, being an early riser has been a constant. In my teens, I had to ride public busses for 90 minutes to a high school 2 towns away. My summer job was working for a landscaper, starting at 7AM – sharp! By the 8:30 coffee break, we were on our second or third house.

When I enlisted in the National Guard in 1983, one of the Army's recruiting slogans was "We do more before 9AM than most people do all day." I get to jump out of planes before breakfast? Sign me up!

Knowing my habits, and my internal clock, I front-load my day. Whenever possible, I schedule the most important meetings, briefings and phone calls in the morning. If afternoon meetings are unavoidable, then black coffee will accompany my lunch. By 10:00pm, I'm in bed, shutting off the light.

I realize that my early morning habits aren't shared by everyone. A good friend is an almost polar opposite. Sleeps later, starts later, finishes later. Late afternoon meetings? Of course. Running after dinner? No problem. Staying up late to finish writing a report? Business as usual.

Two different approaches by two different people. Both strategies are right. For those individuals.

Therein lies the key. As individuals – through nature and nurture – we have different sleep and efficiency cycles. Whenever possible, we should attempt to plan our work around our strengths. Build routines that take advantage of the daily rhythm that will provide the best outcome.

This isn't always possible. Customers, bosses, and life don't always consider what time of the day is best for us. In those situations, be aware of your energy levels. Recognize that you may not be at your best. If needed, take an extra minute, even an extra breath, to consider the next action.

A key ingredient to success is self-awareness – knowing our weaknesses and our strengths. Understanding and exploiting the best time of day for to take on the hardest tasks, accomplish the most work and perform at the highest levels.