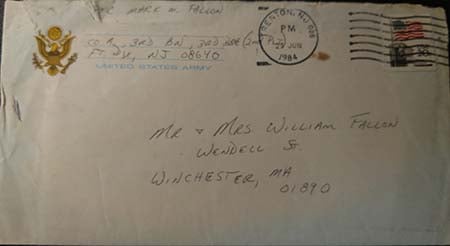 "Someone is sitting in the shade today because someone planted a tree a long time ago." – Warren Buffett

"The true meaning of life is to plant trees, under whose shade you do not expect to sit." – Nelson Henderson

Lately, I've been thinking about my parents. A lot.

It started with finding a stack of letters my mother had saved. They were letters I'd sent to my parents when I was in the military.
Letters from Fort Dix where I completed Basic Training. The next year, letters from Fort Bragg where I was attending ROTC Advanced Camp. A few months later from Fort Benning, as I went through Airborne School. A gap while I finished my graduate degree living at home, then back to Fort Benning for the Infantry Officer Basic Course. And lastly, Fort Carson, Colorado, where I served in the 4th Infantry (Mechanized) Division.

The first letter was sent in 1984 and the last in 1990. Based on where I found them, I'm not sure my mother had looked at them in the 20 years before her death. But she saved them. Maybe for me to find.

Reading them today, I can see some personal growth over the 6 years. Learning to take responsibility for my actions. Recognizing that I had so much more to learn. Saying "thank you" for the examples my parents provided. Being welcomed home, with smiles and hugs.

Last week, I spent an evening with my niece, Rachel, and her brothers, Jared and Evan. I shared some stories about my parents that they hadn't heard before, including stories about when they were very young. I talked about my grandfather, who passed away before I was born. Tales I heard from my father and uncle when I was young enough to sit on his lap. Tales that are slowing turning into legends, being passed on from generation to generation.

Then I listened, as the three of them shared what was happening in their lives. They seem to have inherited the gene of the storyteller, transforming an ordinary day at work into something special. We talked and laughed and hugged for hours.

In my mind's eye, I could see my parents watching the scene before me. Their faces beaming those same smiles I recognized from my earliest memories. Then the picture changed, and it was me watching my nieces and nephews sharing the tales with the next generation. The legends growing more powerful with each telling.

Yesterday, we listened raptly to the stories. Today, we share the stories we remember. Tomorrow – we write our own.