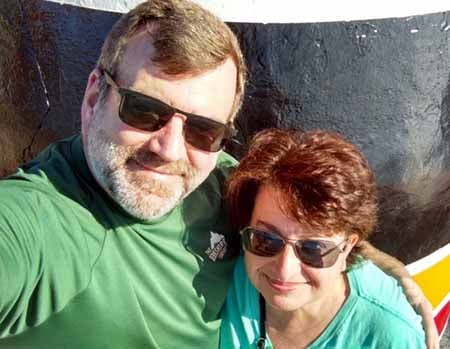 "Two roads diverged in a wood, and I
I took the one less traveled by,
And that has made all the difference."
-Robert Frost

In January, my wife and I made what we hope is our "last move". With an eye to the future, we bought a small house with everything on one level. We remodeled the bathroom with an emphasis on "universal design" – meaning easy access, a walk-in shower with bench, and grab bars.

The last few years, we have lost close relatives, including our parents. That meant cleaning out houses with decades of accumulated belongings.

It was exhausting. Not just physically, but emotionally. We don't have children. When we died, did we want to add this burden to one of our nieces or nephews?

So, we decided to take a different path. At 842 square feet, our new house is less than half the size of our old house. That meant giving away or selling most of our furniture, books and artwork (still in progress). Over 32 years, we've acquired some wonderful possessions. But it was time to let much of it go. What to keep? What to give away? How much stuff did we really need?

Making these decisions when we wanted to, not when we had to, removed the anxiety many people face in this situation. The process reminded me about what was important, which is never an object. By getting rid of "stuff", we've made room for what matters in our lives.

Now, we spend more time outside the house than in it. Our home is on Cape Cod, one of the most beautiful spots in New England. We explore gardens, museums and libraries (Eastham's new library is amazing!), received our badges for the first-ever Cape & Islands Bookstore Trail, and never tire of the sunset at the beach – even in the winter.

My wife, Dolores, also made a career change and works in marketing and development at a nonprofit. Community Connections provides services to more than 750 people with developmental disabilities at 8 locations across Southeastern Massachusetts and Cape Cod. Services include day habilitation, employment services, life skills, elder services and transportation services.

While we've supported nonprofit organizations over the years, working at one makes a difference, because it's much more than a paycheck. I've attended several events and fundraisers, giving me the opportunity to meet clients, their families, and the employees who work directly with clients. Their passion for their work is inspiring.

In the past, I've used my running to raise money for different causes. I can't run anymore, but I can walk. So, I've signed up for the Community Connections Walkathon. I've committed to walking 3 miles and raising $2,000.

Some generous friends and family members have already donated, so there's less than $1,500 left to reach my goal. If half of my readers give $25, I'll surpass my goal (of course, you can give more if your situation allows).

Because I'm volunteering at the Walkathon on October 20, I'll be participating in the "Virtual Walk" – which means that my walk can take place anytime up to October 20. As soon as I hit my fundraising goal, I'll complete my 3 miles and post the results from my Garmin on my fundraising page.

Please consider helping me help others.