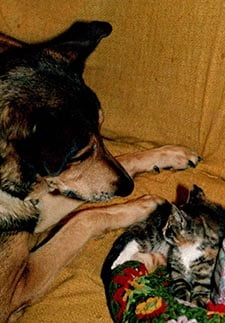 "Smile at strangers and you just might change a life." – Steve Maraboli

Growing up, we always had pets. For about 15 years, 2 cats ruled the house – Kizmee (a Siamese) owned the upstairs, while Sandy (a money cat who walked up to our house and moved in) was the queen of the downstairs. With her double paws, Sandy also governed the front yard.

Our dogs knew that they were the subservient species. Even Benjie, a large shepherd-collie mutt, received early training as a puppy from the cats about his role in the house. After receiving a few swats, he knew that whenever a cat entered a room, he got out of their way.

The cats passed away from old age, and for a brief time, Benjie ruled the roost. But my mom missed having a cat, and soon brought home a kitten she named "Angel". Future events would make us question that name, but that's a story for another blog post.

Despite his earlier experiences, Benjie was intrigued by the new arrival. Instead of chasing her, he would share the couch with the kitten. Over the next few years, they became playmates. On cold nights, Angel would curl up next to Benjie and fall asleep.

Too often, we're led to believe that we shouldn't be friends with certain people. Excuses I've heard include:
Race
Religion
Ethnicity
Nationality
Gender
Sexual orientation
Political party
Employer
The reasons can be even sillier, like what college they attended or what sports team they support. It seems that people seek out a pretext to exclude a group or even an individual.

When we don't allow people into our lives, we lose. We lose their insight, opinions, experiences and story. Unknowingly, we may be missing out on the opportunity to experience their love.

The first time we meet someone, we should look for a reason to include them in our lives. We should seek out what we have in common, how we are similar, and what values we share. Find a way to uncover the potential gifts each person brings to the relationship.

Sometimes, those gifts are our differences. We have the opportunity to gain insight into a world we don't know. We only grow by learning, and the people we welcome into our lives become our teachers.

Every stranger we encounter brings the possibility of friendship. The possibility can only become a reality when we open our hearts.

PS – The military equivalent of cats and dogs are the Army and the Marines. These gentlemen proved that even we can become friends!