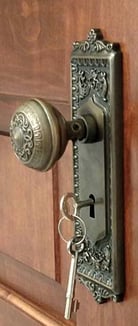 "Our thought is the key which unlocks the doors of the world." – Samuel McChord Crothers

No matter where you live, or what you do, the last few months have been a challenge. Clearly, the people on the front lines of the pandemic have given more than others. Others have lost their jobs or their businesses. Tragically, too many have lost their lives.

The drastic and significant shift to how we live our lives has impacted everyone. For many, that change has felt like a heavy weight crushing their spirit. Not knowing when things will improve has added painful stress to already difficult lives. The restrictions designed to preserve the health of our bodies test the limit of our inner-selves.

There are signs of hope on the horizon. No clear victory yet, but small steps forward in a positive direction. Businesses are cautiously reopening, implementing changes to protect their employees and their customers. There is no "new normal", there is only a changed world. And our world will continue to change – in ways we don't yet know.

So, what will we do? What actions will we take tomorrow that are different than what we did a year ago?

There are no universal answers. There never have been.

Many choices will be out of our control. We will have to adjust to the decisions made by employers, the government, school authorities and large corporations. Of course, we adapted to those decisions in the past, but the changes were more gradual.

Before we take our next steps, we should question the consequences of our actions. We need to take a moment to consider the impact – to others and to ourselves. The effect may be physical or emotional, or both.

Our first thoughts should be to not hurt people. Selfish motives may bring short-term gains, but always at a considerable expense. Ignoring the pain caused to others is never justifiable.

We need to go beyond avoiding harming people. We must actively look for ways to help. This doesn't mean everyone needs to volunteer for charities or donate money to worthy causes. Of course, if we're in a position that we can help in those ways, we should.

Most importantly, we should look for the small ways to give of ourselves. Words of encouragement to a stranger struggling to work their way through the day. A sincere "thank you" to the person behind the register, serving us food or delivering a package. Supporting a friend who is breaking down under the stress they're bearing.

There are countless ways to help others. From doing a good deed, to displaying a positive attitude, to just being kind. It may be opening a door, removing a barrier or finding a new path for someone who's lost. Whatever we decide to do next, we should give it some thought.

When we think of the other person first, new possibilities appear. We discover the best part of ourselves – our strengths, our abilities and our empathy. We unlock our humanity, creating opportunities to become a better person, and continue the movement forward.