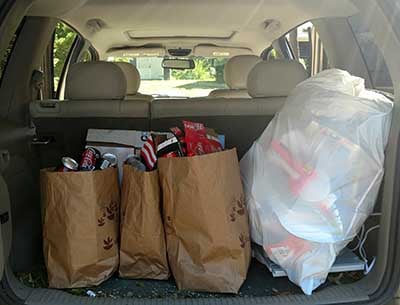 "The things people discard tell more about them than the things they keep." – Hilda Lawrence
One of my weekly rituals is a trip to the local dump. Actually, the official name is – the "Residential Waste Drop Off & Recycle Area". In addition to separate bins for newspapers, plastics and cardboard, there's also containers to donate clothing, small kitchen goods and books. In the back is the compost area for leaves and grass clippings, plus a place for trees, shrubs and bulky items (for a fee).

With a small house, it's important to keep to a regular schedule. The cardboard from shipping boxes can take up a lot of space. Magazines and newspapers stack up quickly. New clothes need space in the closet, so something has to go.

While some items are clearly "trash", it's not always an easy decision. There are some things that may have value for their raw material. There are others that may be useful to someone else. The sort process isn't a hindrance, it's a helpful reminder to take a second look. Because sometimes, I may decide to keep something after all.

I've begun to take the same approach to the rest of my life – my activities, my routines, my thoughts. What should I keep doing? What thoughts and feelings should I hold onto? What do I need to discard?

This isn't as easy as it sounds. Like favored possessions, habits can be difficult to let go. We can usually convince ourselves "we deserve" the little extras that we sneak in private. We aren't hurting anyone.

It's just as difficult to let go of dark emotions. It may be pain or anger. It may be a desire for revenge. Perhaps it doesn't consume our thoughts, but when there's a break, the feelings reappear.

Of course, sometimes our little extras are deserved, and are an important part of celebrating success. Some pains are too deep to just "let go" and are part of who we are. Knowing what to throw away and what to keep isn't an easy decision.

That's why I've never been a fan of "purging" – with physical items or emotional beliefs. When faced with the enormity of all that we carry or all that we own, it's easy to become overwhelmed. The burden to decide about everything that's in our closets and minds can be paralyzing. With so many choices, we choose to do nothing.

A regular review of what's in front of us is easier to manage. We can make small adjustments, clearing space and clearing our thoughts. Making one change to our routine on one day, then repeated the next day – gradually transforms into a healthy habit. Recognizing what's important is easier when it isn't obscured by an overcrowded background.

Just a few moments each week to take inventory. What do I need to keep? What could be shared with someone else?

What do I need to abandon?