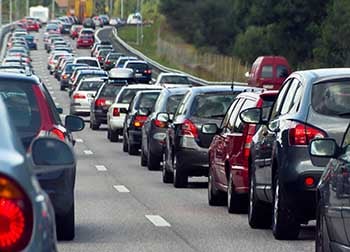 "There are two things a person should never be angry at, what they can help, and what they cannot." – Plato

It had been a long day. My brain was tired, and my body exhausted. I knew there were still 90 miles left to drive, but traffic was moving along, and I might make it home in less than 90 minutes.

Until everything came to a dead stop.

As we inched along, I started to think about alternate routes. I calculated that the "best" substitute was at least an hour longer. An alert on my GPS device estimated that the traffic on the current road was delayed about 45 minutes. So, I continued forward.

No good alternatives to a bad situation. Or were there?

I couldn't make the traffic disappear, or shorten the distance, or stop the hands of time. As I've done in the past, I reset my goals, understanding that I wouldn't get home in time for dinner. Now, I had to reset my attitude.

Taking a line from a popular game show, I decided to phone a friend. The frustration of waiting in traffic disappeared as soon as I heard their voice. They were excited that I called and began sharing the latest news. Over the miles and the minutes, we swapped stories about the past and present, and made plans for the future.

The 2 hours were too short. I pulled in the driveway relaxed and happy.

Much of what happens to us is out of our control. Bosses, customers and coworkers impact our work lives. Weather, flight delays and traffic jams disrupt our travel plans. Computers and cars will break down at the moments when we need them most.

Emotions are what make us human. It's okay to be disappointed and upset. For a moment or two. Then it's time to act.

First, look at all your options – even the ones that aren't obvious at first. Next, adjust your goals – what's the most important task to accomplish? Then, most importantly, adjust your emotional approach to the situation.

This last step may be the most difficult. By taking mindful actions, we can shift our feelings. The easiest – and perhaps best – way is by reaching out to a friend or loved one. They can commiserate with us, console us, and distract us. The rest of the world may not care, but they do.

We can also reflect on the past. In most cases, we've faced more difficult challenges. The same strengths that got us through before, will get us past this. Trust in ourselves is never misplaced.

We can't control what will happen to us, but we can control how we respond – through our actions and our thoughts.