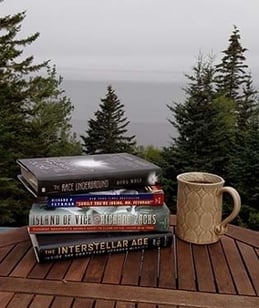 "The biggest challenge is not to add years to your life, but passion to your years." - Harvey Mackay
In the late 1990s, I managed a print and mail department for a financial services company in Boston. I enjoyed giving tours of the operation; explaining the roles people performed, the functionality of the different equipment, and the innovative technology we implemented. My employees were used to listening to my enthusiastic descriptions, as I often asked them to stop a machine, so my voice could be heard.

There's one tour I'll never forget. My guest was a new account representative from an equipment vendor. I included extra information on how we had adapted the equipment from her company to even better serve our needs. We ended the visit at my office, and I asked if she had any questions. "Yes," she replied, "How can you be so passionate about mail?"

I was taken aback. And at a loss for words, which is an unusual situation for me. Didn't she just meet all the wonderful people that I worked with? And didn't she see the new equipment and software we'd implemented to surpass our production goals? "How could I be so passionate about mail?" With all this around me, how could I not be passionate about mail?

Passion has always been an important part of all aspects of my life – relationships and work, even recreation, like books, movies and running. Passion adds intensity, and brings excitement to the everyday. Passion connects me to my actions.

Of course, misplaced passion can be detrimental. It's taken years to control my temper, and that's still a work in progress. I've learned to listen to opposing points of view, even when I was sure that I was right. And I try and hold back when I disagree with someone's approach towards solving an important problem. (Of course, my best friends still forgive me for endless tirades over meaningless arguments.)

Even with these drawbacks, I know that passion has been a key element to my successes. Without passion, it would've been too easy to give up. Many times, the difference between winning and losing was simply not quitting.

What you're passionate about may not be associated with your job. That's okay. You can find a way to bring that passion to the workplace.

For example, let's say that your passion is photography. You enjoy all types of photography – old tintypes or daguerreotypes, black & white film, even digital. You enjoy creating your own prints, whether in the darkroom or on the computer. You love photography.

Perhaps you're an account manager for a financial services firm. Most days, you're interacting with clients, preparing reports and answering emails. Interruptions to your schedule usually mean attending staff meetings or training. There are several ways to bring your passion for photography to this job.

The first method is to use your favorite photographs to decorate your desktops – physical and digital. Choose some photos that mean more than the subject would indicate. It may be the way you've used natural light to emphasize certain features. Or, maybe you've manipulated the image in Photoshop to create an amazing photo. Or, it could just be the first picture you took when you parents gave you a Kodak Instamatic forty years ago.

What's important is to surround yourself with images that bring joy to you. When other people see your desk, they may comment on one of the photos, providing the opportunity to discuss your passion with someone else. That can change the way your co-workers or clients view you. For a minute, you're more than an account manager; you're a photographer.

The photographs on your desktop also feed into the second method of bringing your passion to the job; they're reminders that your job allows you to follow your passion. Your paycheck doesn't define who you are, but it helps you become who you want to be.

Cameras, film and software aren't free. During a tough day at work, it may help to think about the next purchase. Or perhaps the trip you'll take to photograph the sunsets on Cape Cod. But you can't make that purchase, or take that trip, unless you successfully complete the project on your desk. You've found your motivation.

Lastly, you may also try to incorporate your photography into your job. Instead of just bullets in your next presentation, you could use one of your images to make a point. You can volunteer to be the photographer at a corporate event. Offer a free portrait to your favorite customer.

The Marketing Department may be looking for a graphics person. The skills you've gained through your passion may fit their needs. Now, your passion and your job have become intertwined. That's the best situation. Like me and mail.

These techniques work with all types of passions – your family, history, music or running. You can bring your passion into the workplace through a memento, as motivation, or incorporated into your duties. Some ideas may require a little more thought, but you can make the connection if you try.

Passion is a powerful emotion that can fuel enthusiasm and drive behavior. When you associate your passion with your career, you improve your chances of success. And it all starts with answering one question: What are you passionate about?