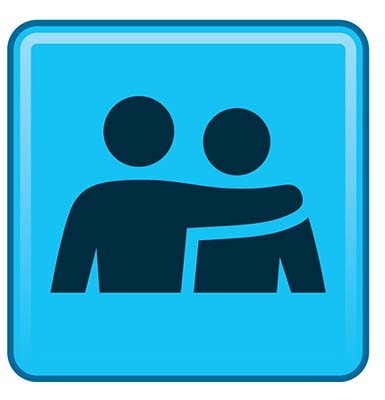 "Asking for help isn't a sign of weakness, it's a sign of intelligence."

The current crisis has revealed the worst and best of human nature. The number of internet scams and criminals trying to take advantage of people's fears is disheartening. Just as unfortunate is the number of people unknowingly spreading misinformation through social media.

There are also stories of ordinary people demonstrating the power of goodness. Friends organizing trips to the store for senior citizens. Teachers using innovation and technology to deliver lessons to homebound students. Parents finding ways to provide stability in uncertain times.

Then there's the professional caregivers – the doctors and nurses on the front lines. Being separated from their families and love ones during extra shifts and rotations. Putting their lives at risk to save others and prevent this disease from spreading. We owe them an unpayable debt.

In the shadow of their heroism, our own needs and fears may seem trivial. We may feel ashamed about our anxieties and concerns. We think that it's selfish to be asking when so many are giving. We become reluctant to be honest and admit that we need help.

It's okay to need help. It's okay to ask for help. The quote at the top of this post is a mantra I've followed for most of my adult life - "Asking for help isn't a sign of weakness, it's a sign of intelligence."

Within hours of the emergency being declared, I started receiving emails from clients and prospects. There was no good news. Projects were being postponed or cancelled. The services for my company were no longer needed.

Then came the event cancellations. Local workshops, national conferences and international trade shows. There's no need for a speaker when there are no gatherings of groups.

I was afraid. I wasn't sure what to do.

I asked for help.

First, I was honest with my team, Wendy and Lois, about the situation. They both reassured me that they understood we all would need to adjust, and that they would be there to support me. Then I reached out to my coach – Lisa Magnuson – to schedule a session. Lois joined the meeting, and the three of us discussed alternatives to how we could help our clients. Last year, Lisa had done extensive research on remote training. She shared what she learned and sent us a detailed email with links to resources.

With that call as our base, we can take positive steps forward. Our team meets every morning to check in on each other, and then discuss the one or two things we can do that day. We still have concerns about the future, but we're facing them together.

By being honest, everyone could make informed decisions and offer helpful advice. By admitting I needed help, I now have a plan and the support needed to face the future. And just as importantly, we have the ability to help others.

This isn't going to be easy. We're all being faced with new challenges and unexpected situations. None of us can go it alone, because we all need to work together to get through this crisis.

If you're able, offer assistance.

And when you need to, ask for help.