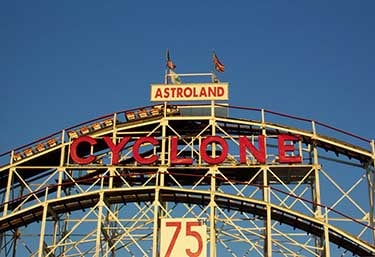 "A day without laughter is a day wasted." - Charlie Chaplin

PS – There's a bonus "little lesson" at the end of this post.

After finishing a productive day at a client in Brooklyn, New York, I needed to decompress. I took off my tie, hung the suitcoat in the back seat, and pointed the car due south. To the tip of the island – to Coney Island.

In the late 19th century, an amusement park opened in this seaside resort. There were rides, food stands and sideshows. The Coney Island boardwalk and beaches transformed the peninsula. Every weekend, throngs of people rode the trains from New York City to escape the confines of the tenements.

This was Thursday, not the weekend, so I didn't expect any crowds. In fact, that was essential to my plan. I was going to ride the world's oldest wooden roller coaster – The Cyclone.