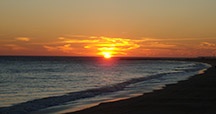 "He that can take rest is greater than he that can take cities." – Benjamin Franklin

One of my favorite memories from childhood is the time we spent at Hampton Beach each summer. My father's cousin let us use their house for one week each August. A house on Ocean Boulevard – directly across the street from the beach.

Our days would revolve around the tides. Low tides meant running for what seemed like miles to get to the water. As the tide rolled in, we'd retreat and retreat, eventually abandoning the beach to watch the waves crash against the wall from the safety of the sidewalk.