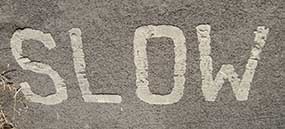 "Adopt the pace of nature: her secret is patience." – Ralph Waldo Emerson

As a young man, I wasn't known for being calm and serene. I would get upset at real and perceived wrongs, even when they were trivial. I thought I was right in my rage, and was convinced that I was full of what Aristotle called "righteous indignation". Actually – I was just full of myself.

I drove my car fast, and paid several speeding fines. I made many decisions impulsively, and paid the consequences for poor choices. I was convinced that patience was a "natural" trait, and I didn't have it.