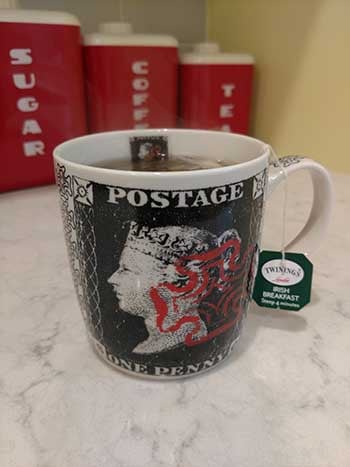 "The past is really almost as much a work of the imagination as the future." – Jessamyn West

Anyone who knows me knows my love of coffee. Whether it's from my favorite coffee shop, or Dunkin Donuts, or instant coffee heated over an open fire. No sugar or cream, just hot, black coffee. It's the perfect way to start the day or end a meal.

Then there are afternoons when my cravings take me elsewhere. To a cup of tea. Now in my favorite teacup, featuring a "Penny Black" stamp. Printed in England in 1840, the Penny Black was the first adhesive postage stamp.

Whenever I drink tea, the flavor pulls memories from hidden corners of my mind. My father and uncle having tea on Sunday afternoons after dinner. My mother making the tea, even though she preferred coffee. My mother-in-law enjoying her cup with a spot of honey. A visit to the Bath Postal Museum to see an actual Penny Black.

The gift of this cup.