"I never met a man I didn't like." – Will Rogers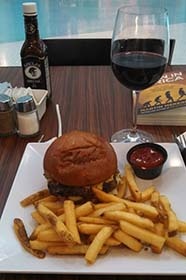 Traveling for business means eating at a lot of restaurants; usually alone. I look for a seat at the counter in diners, or a seat at the bar in restaurants if they aren't too noisy. Most times, I'm seated at a table for two. I use the extra space for whatever book I'm reading.
Just because I'm alone, doesn't mean I don't enjoy some good conversations. In fact, many of my blogs are inspired by what I learn while eating. And listening.