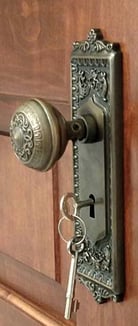 "Our thought is the key which unlocks the doors of the world." – Samuel McChord Crothers

No matter where you live, or what you do, the last few months have been a challenge. Clearly, the people on the front lines of the pandemic have given more than others. Others have lost their jobs or their businesses. Tragically, too many have lost their lives.

The drastic and significant shift to how we live our lives has impacted everyone. For many, that change has felt like a heavy weight crushing their spirit. Not knowing when things will improve has added painful stress to already difficult lives. The restrictions designed to preserve the health of our bodies test the limit of our inner-selves.

There are signs of hope on the horizon. No clear victory yet, but small steps forward in a positive direction. Businesses are cautiously reopening, implementing changes to protect their employees and their customers. There is no "new normal", there is only a changed world. And our world will continue to change – in ways we don't yet know.

So, what will we do? What actions will we take tomorrow that are different than what we did a year ago?