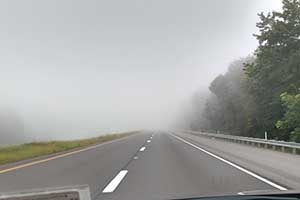 "As for the future, your task is not to foresee it, but to enable it." - Antoine de Saint-Exupery

Last week, I was driving through the hills of central Pennsylvania. I travelled along a road that followed the Juniata River. Most days, the green hills make the scenic drive so enjoyable, the hours pass quickly.

However, this day I couldn't make out cars just a few hundred feet in front of me. Due to temperature inversion, clouds lingered in the valleys, obscuring the view of the hills. It was only clear right along the river and at the tops of the highest peaks. The interchange of glare of the sun and gloom of the clouds meant constantly switching between sunglasses and driving glasses.