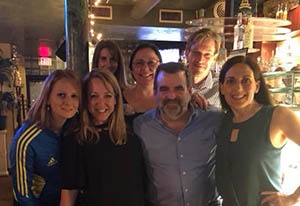 "Food for the body is not enough. There must be food for the soul." – Dorothy Day

Last weekend, I attended a dinner that will remain a treasured memory. An amazing aspect of that dinner – I'd only met 2 of the 7 people in attendance before that night.

Everyone had come to town for the 122nd Boston Marathon. One person at dinner was running, and the rest of us were supporters of her and others we knew taking on the epic course. At first, the reservations were for 4 of us, then 5, and then 7. Friends wanted to include friends, and we all wanted a fun evening.