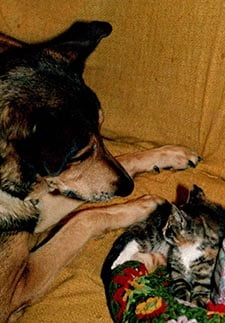 "Smile at strangers and you just might change a life." – Steve Maraboli

Growing up, we always had pets. For about 15 years, 2 cats ruled the house – Kizmee (a Siamese) owned the upstairs, while Sandy (a money cat who walked up to our house and moved in) was the queen of the downstairs. With her double paws, Sandy also governed the front yard.

Our dogs knew that they were the subservient species. Even Benjie, a large shepherd-collie mutt, received early training as a puppy from the cats about his role in the house. After receiving a few swats, he knew that whenever a cat entered a room, he got out of their way.