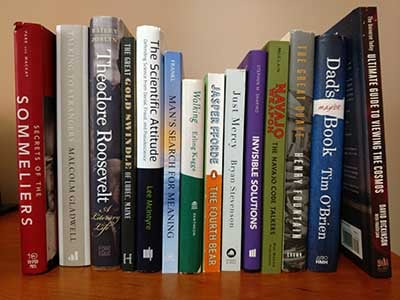 "There are so many thousand good books, in so many languages, suited for so many different moods, and needs, and individuals, that all a man ought to do is to say a given number of books proved of interest and use to him personally at a given time under given conditions." – Theodore Roosevelt

Netflix – watched everything.

Amazon Prime – watched what was good.

Cable TV – nothing left except the news. And I can't watch much more of that.

We need a break from the screens. The internet and social media have allowed us to stay connected while physically apart. Many people have been able to retain their jobs by remote access to their workplace. Schools have continued to provide education through e-learning. Having an almost endless feed of movies and television has made staying at home easier.

The stress on our bodies – bones, brains, eyes and ears – has begun to take its toll. I've attended more online meetings and webinars in the last 8 weeks than the previous 8 months. Moving from the small screen on my desk to the big screen in the living room doesn't feel any different.

There's a radical solution. Turn off the screens. Pick up a book.

Yes, I'm advocating for reading a physical book. No, I'm not a Luddite (this is an online blog, isn't it?). However, there are benefits to a paper book that we should consider. Especially now.

Physical books provide an alternative to the lights and noise that surround us. We can continue to be entertained by novels and poetry, or we can learn from scholarly authors about history and science. New worlds can be opened by a book.

Reading from paper is easier on the eyes than reading on screens. We're less likely to be distracted, allowing us to absorb – or be absorbed – by the words on the page. Studies have shown that the blue light from screens may impact our sleep cycles. On the other hand, reading from a physical book can help us fall asleep faster.

Whenever possible, buy books from your local bookstore. While many stores have their physical doors closed, their websites are open 24 hours a day. If your local bookstore doesn't have a website, check out Bookshop – an online store that partners with local, independent bookstores. Most importantly, profits are shared with the bookstores and authors.

What books should you read? To paraphrase Theodore Roosevelt – whatever is of use and interest to you at this moment. The right book for you right now may be a moving novel, suspenseful mystery, inspirational biography or explanation of natural phenomena. There are millions of titles to choose from. And the choice is yours.

Whenever someone would ask Roosevelt for a list of important books, he would just list what he'd read over the last year. In that spirit, below are the books I've read over the last 12 months, sorted alphabetically by author. I visit a lot of used bookstores, so there are some classics on the list.

I post my thoughts about the books I read on Goodreads and keep a master list on this website. If you like to share, let me know what books you enjoyed by leaving a comment.

It's time to explore – by reading a book.
May 2019 to May 2020 Books

Author First

Author Last

Title

Nonfiction Books

The Mueller Report

Thomas

Bailey

Theodore Roosevelt: A Literary Life

Carrie

Bangs

The Great Gold Swindle of Lubec, Maine

Hugh

Blair-Smith

Left Brains for the Right Stuff: Computers, Space, and History

Shaun

Bythell

The Diary of a Bookseller

Bill

Cunningham

Fashion Climbing: A Memoir with Photographs

David

Dickinson

The Universe Today Ultimate Guide to Viewing The Cosmos: A Complete Look at the Night Sky from the Moon to the Edge of the Galaxy

Barbara

Ehrenreich

Natural Causes: An Epidemic of Wellness, the Certainty of Dying, and Killing Ourselves to Live Longer

C.L.

Fornari

The Cape Cod Garden

Henry

Fountain

The Great Quake: How the Biggest Earthquake in North America Changed Our Understanding of the Planet

Viktor

Frankl

Man's Search for Meaning

David

Fromkin

The King and the Cowboy: Theodore Roosevelt and Edward the Seventh, Secret Partners

Malcolm

Gladwell

Talking to Strangers: What We Should Know about the People We Don't Know

Helene

Hanff

84, Charing House Rd

John

Hodgman

Medallion Status: True Stories from Secret Rooms

Erling

Kagge

Walking: One Step at a Time

Mark

Kurlanksy

The Big Oyster: History on the Half Shell

Ursula

Le Guin

No Time to Spare: Thinking About What Matters

Henry Wadsworth

Longfellow

Tales of a Wayside Inn

John

Lukacs

The Future of History

Lisa

Magnuson

The TOP Sales Leader Playbook: How to Win 5X Deals Repeatedly

David

Maraniss

A Good American Family: The Red Scare and My Father

Tim

Marshall

Prisoners of Geography: Ten Maps That Explain Everything About the World

John

Maxwell

Sometimes You Win--Sometimes You Learn: Life's Greatest Lessons Are Gained from Our Losses

Sally

McClain

Navajo Weapon: The Navajo Code Talkers

David

McCullough

The Great Bridge: The Epic Story of the Building of the Brooklyn Bridge

Lee

McIntyre

The Scientific Attitude: Defending Science from Denial, Fraud, and Pseudoscience

Robert

Moor

On Trails: An Exploration

John

Naisbitt

Megatrends - Ten New Directions Transforming Our Lives

Michelle

Obama

American Grown: The Story of the White House Kitchen Garden and Gardens Across America

Tim

O'Brien

Dad's Maybe Book

Susan

Orlean

The Library Book

Rajat

Parr

Secrets of the Sommeliers: How to Think and Drink Like the World's Top Wine Professionals

Leah

Price

What We Talk About When We Talk About Books: The History and Future of Reading

Tom

Sant

The Language of Success: Business Writing That Informs, Persuades, and Gets Results

Ken

Schmidt

Make Some Noise: The Unconventional Road to Dominance

Stephen

Shapiro

Invisible Solutions: 25 Lenses that Reframe and Help Solve Difficult Business Problems

Gina

Sheridan

I Work at a Public Library: A Collection of Crazy Stories from the Stacks

Bryan

Stevenson

Just Mercy: A Story of Justice and Redemption

Florence

Williams

The Nature Fix: Why Nature Makes Us Happier, Healthier, and More Creative

Robert

Wilson

Astronomy Through the Ages: The Story of the Human Attempt to Understand the Universe

Jack

Youngman

Cape Cod and Islands Lawn & Garden Almanac

Fiction

Fredrik

Backman

My Grandmother Asked Me to Tell You She's Sorry

David

Baldacci

The Fix

Lee

Child

Past Tense

Lee

Child

Blue Moon

Agatha

Christie

Murder at the Vicarage

Agatha

Christie

Sleeping Murder

Jasper

Fforde

The Fourth Bear

Steven

Galloway

The Cellist of Sarajevo

Ernest

Hemingway

The Old Man and the Sea

Stan

Lee

Amazing Spider-Man Epic Collection Vol. 4: The Goblin Lives

Dennis

O'Neil

Green Lantern/Green Arrow (Paperback)

Georges

Simenon

Pietr the Latvian

Roy

Thomas

Savage Sword Of Conan: The Original Marvel Years Omnibus Vol. 2

Amor

Towles

Rules of Civility