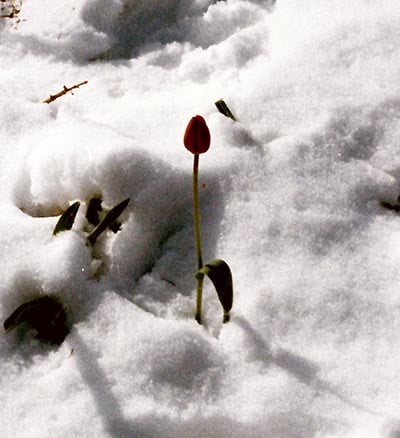 "Courage is not the towering oak that sees storms come and go; it is the fragile blossom that opens in the snow." – Alice Mackenzie Swaim

I love watching the first blooms of early spring. Tulips, daffodils, and crocus have been lying dormant for almost a year. When they make their appearance each April, it reminds me that warmer weather is on the horizon. The promise of more daylight, more time outdoors and even more flowers.

Every so often, winter ignores the calendar. We wake up to find that the grass has disappeared under a fresh coat of snow. The temperature has dropped below freezing. The daffodil stems are bowed down in submission. A lone tulip stands defiant.

The next day, the sun warms the ground and the snow disappears. Some plants succumbed to the storm, while others withstood the assault. Over the next few weeks, more flowers blossom and colors dominate the landscape. Then, the spring perennials return to their slumber and give way to summer.

The cycle begins again.

That's the part we don't often appreciate – the unnoticed continuation of the struggle.

The life of a perennial follows a cycle – dormancy to growth to flowering and back to dormancy. The plant awakens, struggles through the soil, soaks in the sun, and perhaps blooms. There's no guarantee that it will be successful. A late snow may bend and break the weak stems. Frost may kill the bud before the petals can spread.

Whether it flowers or not, the plant continues the cycle. A retreat, needed rest, followed by another attempt. And again. And again. And again.

The strength is beyond the fragile blossom in the snow, but in the continuous attempt. That even when all goes well, and there's a glorious bloom, that isn't the end. It's only part of the story – a single chapter in a much longer book. Likewise, the failures aren't final, but temporary setbacks.

Many of us have been pushed hard by the current storm. We've been battered and driven down. Our dreams buried by conditions we can't control. For too many, we've experienced the deepest loss, made even harder by denying us the chance to be with the ones we love during their final hours. Then not allowing us to receive the comfort of communal grieving.

And we don't know when the storm will end. Or, how soon the next storm will arrive. The unknowing adds to the stressful environment.

We're hurt. We're afraid. We're tired.

But this isn't the end. It's not the final chapter. There will be a new tomorrow. After allowing our dreams to go dormant for a while, we will have another opportunity to grow. But that will take time. And patience. And hope.

Our beauty isn't just a single moment or a fleeting bloom. We have a lifetime of cycles ahead of us.