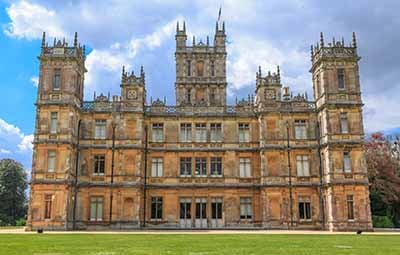 "I have no right to be unhappy." - Lord Grantham

Even if you don't watch PBS, you've probably heard of Downton Abbey. The period drama tells the story of the residents of a country estate in England during the early 1900s. There's intrigue upstairs among the family members as they try to maintain their wealth and heritage. And there's equal suspense among the staff, as they strive to make their lives better. Both classes struggle with new technology, the impact of World War I, and the changes transforming British society.

At the center of the drama is Sir Robert Crawley, the Earl of Grantham. Although born into a privileged family, he served in the British Army during the Boer War, and turned part of his house into a convalescent home for injured officers during the World War. Lord Grantham is a decent employer, treating his staff with respect.

Throughout the twists and turns of the various plots, Sir Robert stays above the fray. He takes his role as Earl seriously, both on the estate and in society. He sees himself as part of a long lineage, and that he must do his duty.

However, he's still a man. The tumultuous events around him begin to take their toll. He questions his purpose in life, and becomes despondent. At a low point, he behaves ungentlemanly.

Suddenly, he becomes aware of the wrongness of his actions. He takes stock of what he has, who he is, and who he should be. Another character asks Lord Grantham if he's happy. He responds, "I have no right to be unhappy."

It's unreasonable to expect people to be happy all the time. Life can be difficult. Loss, pain and sadness will occur.

We won't achieve all of our goals all of the time. The project at work may not be successful. The prospect rejects your proposal and buys from a competitor. A personal relationship ends in a disappointing manner. Loved ones die too soon.

In the face of all this, do we "have no right to be unhappy"?

Like most people, I've experienced unhappiness. I've had my share of loss, pain and sadness. When I think about those moments, I can still feel the sting from the emotional and physical wounds.

Some losses stay with us forever. A back injury from 30 years ago can suddenly flare up, and the pain is fresh. Similarly, the distress from an event that happened decades ago is remembered, and the emotion returns.

For most of us, there are many reasons to be happy. When sadness does arrive, we should seek out remedies. A tough day at work may be offset by a hug at the door. The emptiness from the death of a loved one can be filled with the wonderful memories they left us. The overbearing weight of events may be lightened by asking for help.

We have control over the emotions that may affect our behavior. If we become mired in unhappy thoughts, we'll become morose and despondent. With only negative thoughts in our mind, we'll miss a great deal of the wonder in our lives.

"Wonder" means more than the special events or spectacular beauty we sometimes experience. "Wonder" can be found in the everyday – the home that we live in, the friends who care for us, and the people who love us.

We should take stock of our lives on a regular basis. We needn't gloss over the challenges and difficulties we face, but place them in perspective. The wonderful will often outweigh the unpleasant. There are many reasons to enjoy life. If we look.

Do we have a right to be unhappy? I'm not qualified to answer that for everyone. But we do have a right to be happy.