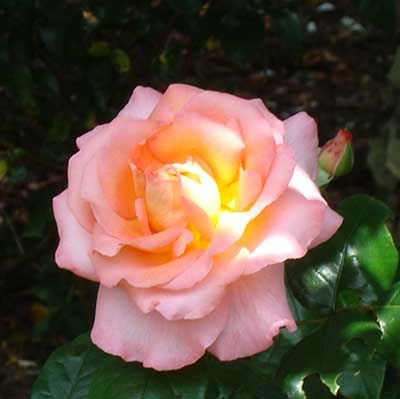 "What's in a name? That which we call a rose
By any other name would smell as sweet."
William Shakespeare
I've always loved roses. I remember the first rose bush that I grew in my mother's flower bed. I decided to start with a bare root, which was a greater challenge than I anticipated. After several months, green sprouts. Then leaves. Buds. And finally, one beautiful rose.

Years later, when I finally had my own house, another chance. With the lessons of the past, the soil was better prepared. A consistent watering schedule was followed. Within a few months, not just a single rose, but a thriving plant with multiple blooms.

Cutting the first stem, I was painfully reminded of another lesson from the past – the rose's thorn. Nature's method of protecting beauty is very efficient. I'm not sure the next words out of my mouth are appropriate to share here.

The prospects of happiness are surrounded by the possibility of pain. That doesn't mean we should avoid the opportunities of enjoyment. Rather, it allows us to appreciate the effort it takes to create and maintain something wonderful.

At work, new projects and responsibilities may lead to advancement. Within the tasks lie potential pitfalls. Unsure coworkers that may want to take control. Vendors that promise more than they can deliver. Unforeseen shifts in upper management that lead to the project being cancelled, and your hard work discarded.

Friends are fundamental supports as we navigate our way. Throughout our lives, the circle of friends around us may change. People move, take different paths, or leave for a variety of reasons. Their departure leaves a hole that isn't easily filled.

Those we love are the bedrocks of our lives. Even here, there is the possibility of pain. From the heartbreaks experienced when relationships end unexpectedly, to the unbearable final separation of the grave.

The risks are worth it. The arduous work on the project was still valuable. We learned more about the topic - and ourselves. We're stronger for the experience.

While friends may move on, we carry their memories with us. The joys and lessons we shared become part of our story. Our past becomes a guide for the future.

Love – familial, amical, romantic – brings the greatest dichotomy. There's no better feeling when you know you are loved. And there's no greater pain than when we lose that person. However, the joy we receive from loving and being loved is greater than the ache of loss. We must choose love.

There are many different roses in our lives – along with the requisite thorns. Instead of cursing, we need to appreciate all that is around us as we enjoy the beauty of life.