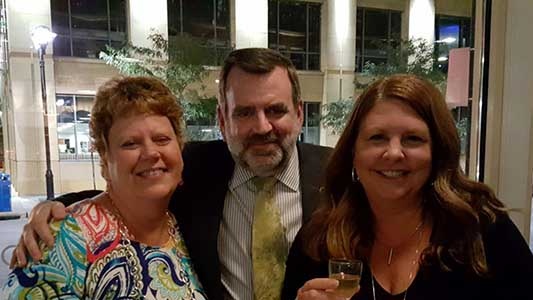 "The people who make a difference are not the ones with the credentials, but the ones with the concern." – Max Lucado

This time of year always brings a lot of travel. Many companies want to finish projects before the year-end, so that means more onsite visits. In support of Postal Customer Councils, I'll visit 6 states in 3 months, delivering keynote addresses and instructional classes. Between Labor Day and Thanksgiving, I'll be flying at least 10 out of 12 weeks.

I knew that my life would look like this when I started The Berkshire Company, and it would become busier when I launched my speaking career. Business travel isn't glamorous, and there's a lot of time sitting in airports, standing in check-in lines at hotels, or waiting for a table at a restaurant. Whenever I start to feel bad for myself, I remember I've had much tougher jobs (that will probably make an interesting blog post someday).

I also use my travel time to meet the people around me. I've learned the first name of most of the agents in Boston's Delta Sky Club. In addition to going out of their way to assist me when a flight's delayed or I forgot my notebook, they ask about where I'm going, how's the hip recovery coming along, etc. They ask about the person, not just the customer.

Last week, I visited Des Moines for the first time in years. I called the Downtown Marriott from the airport to request a pickup. When the shuttle arrived, the driver recognized me, pointed and smiled. Before taking my bags, Mike shook my hand and gave me a hug. The people at the stand waiting for a ride looked on, amused and confused. During the brief ride, we got caught up (he has 3 kids!) and shared a few memories.

My friend Abby is now the hotel's Senior Manager of Food and Beverage Operations. I've known her since she started at the front desk over a decade ago. She took time out of her busy schedule to meet with my business partner and me. Before leaving, she took a moment to express her condolences about my mother's passing. Tears began to form in our eyes, and a hug helped us catch our emotions.

Dinner each night was with former coworkers or former customers. Whether the meal was roasted duck or barbecue brisket, the evenings were punctuated with smiles, stories and hugs. Years have passed, and roles have changed; but the connections are stronger than ever.

This morning's "daily huddle" call with Jeff included a review of the crazy travel calendar. I needed to add a special event for him, and I wasn't sure which color to use. I reviewed what colors were already taken for various categories, and we settled on orange for this event. That only leaves "blue" as a choice for any new type of entry, so I started to sing "Blue Christmas". Jeff's immediate response, "Thank goodness you don't rely on your singing to make a living."

I'm still laughing an hour later. And I really needed that laugh. Jeff knew that.

There are dozens of airlines that will take my money to fly me to another city. There are hundreds of hotels willing to sell me a room. I've worked with a lot of talented people over the last 40 years.

There are a handful of people who make me feel like they care.

Wherever possible, surround yourself with people who are concerned with your best interests. The lowest price isn't as important as a personal connection. The highest profit can't cover the cost of friendship.

And hugs?

Even over the phone – priceless.