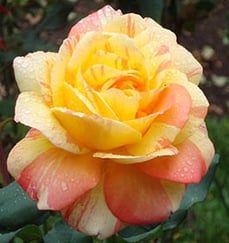 "There is little difference in people, but that little difference makes a big difference. The little difference is attitude. The big difference is whether it is positive or negative." - W. Clement Stone

I love having lunch lunch with my friend, Beth. She's always a pleasant person, but one day Beth seemed to be in a better-than-usual mood. I asked the reason for her good spirits.

Beth explained that the day started on a positive note when she opened her email to read an exciting press release about her company. When she went downstairs, she found out a family member had already taken the dog for a walk. That meant she was able to get in a quick workout before breakfast. Then she connected with 6 different customers and prospects through phone calls.

Smiling, Beth said, "Most days, it's the little things that make the difference."

And most of the time, the little things should be enough. We should take the time to look for the small positives taking place around us. Every day.

Most of us have heard the saying "Don't sweat the small stuff. And it's all small stuff." This attitude is supposed to help us deal with the negative events in our life. Many problems are blown out of proportion and become too distracting. By minimizing their importance, these difficulties can be dealt with at the appropriate level or dismissed entirely.

Not a bad approach towards life. However, there's a problem. We're focusing on the undesirable parts of our day. We may be putting our worries in the right perspective, but we're still spending too much time thinking about the negative.

Looking for the little positive things means taking a mindful approach towards our lives. We need to consciously look for the small "bits of goodness" that surround us. And we need to channel that positivity into our actions and our attitude.

Celebrating the goodness doesn't mean ignoring problems. However, incorporating the energy from recognizing the little things that go right, provides the best mindset to seek constructive solutions to problems.

For example, this Monday, like most Mondays, I was traveling to a client's site. Weeks earlier, I'd booked my flights and a car service to take me to the airport. Recognizing Monday morning traffic may be an issue, I planned my pickup to allow an extra half-hour of drive time.

Imagine my surprise when the car pulled into my driveway 15 minutes earlier than my appointment. The driver explained there was a water main break on our route, and traffic was backed up worse than normal. My immediate focus – how lucky to be working with someone who was looking out for me.

Traffic was bad, but because the driver had arrived early, and had mapped out a route around the trouble, we still got to the airport with time to spare. I checked in, passed through security and made my way to the Delta Crown Room. Being a frequent flier, the front desk staff knows me and greeted me with "Good morning, Mr. Fallon." Always makes me smile.

I sat down at a cubicle to work and opened my briefcase to get my notebook. Not a computer notebook, but a paper notebook that I always carry with me. But it wasn't there. I retraced my steps, and remembered using the notebook in the back of the car. I had it in my hand when I got out to shake hands with the driver. So where was it?

I went to the front desk, and asked if they could call the ticket counter. The agent tried one number and it was busy. Then another number and no answer. Then a third number and someone picked up. She explained the situation and described my notebook. Yes, they have it. The agent said, "Mr. Fallon will be right down to pick it up." Then she instructed me to "go to counter position 26, and ask for Donna."

A few minutes later, I was back at the ticket counter and asked for Donna. Hearing her name, Donna looked up, smiled and asked, "Mr. Fallon?" Then she handed me my notebook. With no luggage and my TSA "Pre-Check" status, I was through security quickly.

As I walked back to the Delta Crown Room, I chuckled to myself, realizing how lucky I was. The agent who was persistent in her attempts to get someone at the counter. Donna's smile as she returned my notebook. And I still had 45 minutes before my plane was scheduled to depart. It was going to be a good day.

Recognizing all the good that had happened to me was important later in the day. I received an email from a client noting administrative delays with my contract. In a positive frame of mind, I thought of some alternatives, and requested a phone call. Within an hour, we had a solution started.

But what if I hadn't focused on the "little things" that went right? What if I had directed my energy to the delays caused by the water main break, or losing my notebook, or having to walk back and forth to the ticket counter? Would I be able to see possible solutions to any other problems that day? Or, would I see only another crisis?

We will have problems in life. Real problems. But we'll also have moments every day that lift our spirits and brighten our mood. Positive events that can give us the energy to tackle the real problems.

The positive events may be little things. But most days, it's the little things that make the difference.