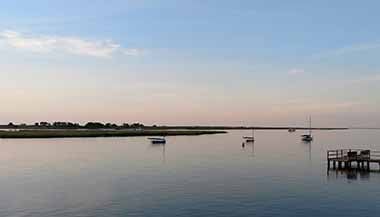 "Clearings. That's what I needed" Slowly my brain righted itself into spaces unused for months." – Helen MacDonald

Last year brought a lot of changes to my life. I was forced to stop running and had to face my fears when having major surgery. I was fortunate to have an amazing doctor and access to a teaching hospital. My surgery went as planned, and my doctor was impressed with my "quick recovery."

Of course, what was "quick" for him was "painfully slow" for me. I had followed the pre-operation workout routine and completed the exercises assigned by the physical therapist afterwards. But I didn't feel as strong as I thought I should. A walk to the end of the driveway and back felt like a 10k run. Not exhausting, but a workout.

The longer the recovery took, the older I felt. Since I already had to quit running, maybe there were other things I should quit. Being a consultant and speaker means flying 100,000 miles a year with almost 100 nights in hotels. Maybe I should close the company and give up speaking. Writing this blog and my corporate blog takes a lot of time, and my readership isn't really growing. Maybe I should stop writing. Maybe my best days were behind me.

In the middle of all this we moved (the topic of a future blog). My new neighborhood was flat with nice sidewalks. Morning walks took me by either a pond or river, as well as beautiful gardens. Carrying my phone, I was constantly stopping to take photos of the beautiful scenery in front of me. In the evenings, we drive to the beach and watch the boats come in and people fishing from the pier.

A quarter mile walk became a half-mile, then a full mile. Soon, I was walking 2 miles, 4 or 5 times a week. With each day, my mind became clearer. I started to see new possibilities for The Berkshire Company. New ideas for classes and keynotes. Blog posts became easier to write and were shared more often. I looked forward to the future with optimism.

There are multiple reasons for my improved attitude and outlook. I didn't realize it then, but a major factor was increasing the amount of time I spent outdoors. That became clear as I read a book by Florence Williams - The Nature Fix: Why Nature Makes Us Happier, Healthier, and More Creative.

Ms. Williams explores the ongoing research on how nature, and being in nature, impacts our brains and our bodies. Going beyond summarizing doctoral theses and reports, she travels around the world participating in old and new techniques for experiencing nature. From camping in the high deserts in Utah to "forest bathing" in Japan to walking trails in South Korea to experiencing the garden city of Singapore – Williams becomes both observer and subject for the research.

This book examines the science behind the impact of nature. Researchers use instruments to measure blood pressure, brainwaves, oxygen levels and other bodily reactions. Questionnaires and surveys determine emotional responses. While there are competing theories of the "how", there's agreements on the "what" – being outside, in contact with plants and water, has a positive effect on us.

This isn't a luddite call to abandon technology. Instead, like any diet, there's a need for balance. Set aside time – as little as 15 minutes a day, an hour a week, 5 hours a month – to get outside. Carry your phone for safety and photos but unplug the earbuds. Listen to the breeze, the running water, the birds. Breathe in the fresh air and enjoy the flowers' perfume. Take in the beauty of the world around you.

We need nature – and to be in nature – to stay healthy – physically, intellectually, emotionally. Start taking steps to get your fix.