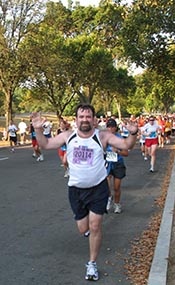 In 2007, I turned 45. Not an age that most of us approach with much interest. Feelings of excitement or dread are normally reserved for ages that end with a "0", like "30", "40" or "50".

Turning 45 made me think about what happened in 1987 – the year I turned 25. Over just a few months, I received my Master's in Public Administration degree, got married and reported for active duty at the Infantry Officer Basic Course at Ft. Benning, Georgia. It was quite a year.

What do I do for an encore 20 years later? My education now takes place outside the classroom – through overcoming challenges in running a business, supplemented with a healthy reading program. To celebrate our 20th anniversary, my wife and I went to Paris. We had a wonderful time, and I remembered enough French to get along.

To pay tribute to my military service, I decided to run the Army Ten-Miler Road Race in Washington, DC, on October 7. The course would start at the Pentagon, with a loop along the Mall, past the Capitol and back. Sounded fantastic.

There was one minor issue. I was in terrible physical shape. On April 2, the day after I signed up for the race, I barely completed two miles. And that took almost 30 minutes. Finishing 10 miles was going to be a challenge.

In a newsletter I published that year, I recommended Seth Godin's The Dip. In the book, Godin identifies the Dip as the challenge people and companies face after the initial excitement about starting a project wears off. For some people, they can't see beyond the Dip, and quit. Others work through the Dip and achieve success. I wanted to be successful.

From my experience, I knew that the Dip would probably occur when I hit the 4-mile run mark in training. After that distance, my body would become more aware of the compounded effects of past injuries and the additional weight I was carrying. But recognizing a Dip is only half the battle. I needed a way to make it past the Dip.

In many presentations, I remind my audiences that you never have to tackle problems on your own. It's a good idea to seek out assistance for tough issues. Asking for help isn't a sign of weakness – it's a sign of intelligence.

Taking my own advice, I reached out to two friends, Brian Hayes and Ken Benway. Brian and I were cadets together in the Reserve Officer Training Corps (ROTC) program at Suffolk University, and Ken was our instructor. They were also both retired Special Forces soldiers. I knew that these two men would support me and help me achieve my goal. Although somewhat differently.

I emailed my weekly progress and received immediate feedback. I could hear the "HUAH!" in Brian's voice when he wrote back. Each email began with him calling me "Hero", and ended with "Congrats Amigo!" He also added phrases like "kinder and gentler gets you fatter and slower".

Equally supportive, Ken's emails included cautionary advice with reminders to stretch and to not over-train. Also, there were descriptions of his personal training program and links to websites with information on nutrition and physical conditioning.

Soon the "4-Mile Dip" turned into a "blip". I was hitting my 6-mile, 8-mile and 10-mile training targets weeks ahead of schedule. My goals changed as well. I no longer wanted to just finish the Ten-Miler, but finish with a respectable time.

And I did. On October 7, 2007, I finished the Army Ten-Miler with a time of 1:25:01, an average of 8 minutes and 30 seconds per mile.

I was never alone during those 10 miles. Not just because there were 26,000 other people in the race. Or, because my wife was at the 5-mile mark to take photos and cheer me on. I also had Brian and Ken in my head, continuing to encourage me and remind me that I could accomplish my goal.

We all have goals. And, as Seth points out, we'll all encounter Dips. But remember, you never have to face the Dip alone.
Be smart, and ask for a little help from your friends.