"Example isn't another way to teach, it is the only way to teach." – Albert Einstein

In the 1940s, less than 4% of women in the United States went to college or an equivalent institution.

My mother was one of them.

In 1995, only about 15% of people in the United States had email.

My mother was one of them, too.

As I wrote in her eulogy, the first two words that would come to mind if you said, "Paula Fallon" were "mother" and "love". Last week, I had lunch with a woman who worked with my mother back in the 1990s. She talked about the day she brought her newborn daughter to the office.

"As soon as I walked in the door, Paula was there to take the baby into her arms. It was like she had ESP, and knew there was a baby nearby."

I love hearing stories like that. It brings back wonderful memories of my mother's smile – which always shone brighter when she was holding an infant or small child. To know that's how other people remember her is heartwarming. But there is so much more to her story.

She grew up as the youngest of 7 kids in a hardscrabble neighborhood of Boston during the Great Depression. Her father was a carpenter who struggled to find work. Jobs were scarce, and "Irish Need Not Apply" signs hung in too many windows. The classroom and the public library were the best paths out.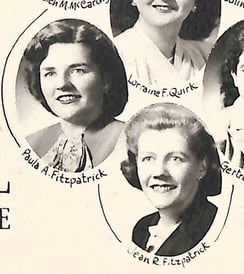 After high school, she enrolled in the Bentley School of Accounting – which has evolved into Bentley University. She worked during the day and attended classes at night. Along with her older sister, Jean, she graduated in 1948.

As a mother of 10, that degree came in handy as she found a way to feed and clothe us on a postal clerk's salary. But she also used her knowledge outside the home. She was the treasurer of the groups she joined, including the Ladies Sodality and the bowling league. She helped out her sister at work one night a week when we were young. After we graduated from high school, she did more part-time bookkeeping. Then when my father retired, she went to work full-time.

Those are the other stories I'm just now starting to hear. The "Paula Fallon" as accountant, coworker and friend. One friend loves sharing how every time my mother handed out commission checks, the adding machine tape listing every entry was attached. It wasn't just being old school, it's that my mother believed that you should show your work.

That message was heard at home as well. I wasn't allowed to use a calculator until I took trigonometry, as even she couldn't quickly solve sine and cosine equations. But before I could submit my homework, my mother would make me explain what I was doing when I entered the numbers and punched the keys. Getting the right answer wasn't enough, knowing why an answer was right was more important.

I started this post bragging about the amazing things my mother achieved – how she was ahead of her time. But that wasn't her style. She allowed her actions – working hard, using her talents, displaying trustworthiness – to speak for themselves.

All around us are people quietly leading by example. They may not have a title, an office or a reserved parking space. They don't yell from a platform or attract attention by bragging. If we pay attention, if we take notice of their actions, then we can learn to be better.

PS – February 27, 2019 would have been my mother's 93rd birthday. I continue to learn little lessons from my first teacher.