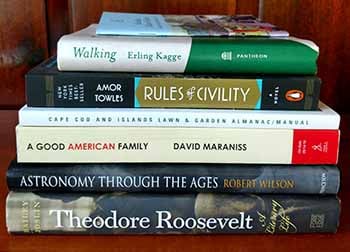 "Reading takes us away from home, but more important, it finds homes for us everywhere." - Hazel Rochman

It's officially the summer season, and that means warm weather, trips to the beach, and more reading time! This year, I'm going to recommend 6 books that I've already read, plus 6 books that I plan to read over the next 3 months.

There's an old adage, never eat oysters in months that don't have an "R" in them. You can learn about the origins of that saying, and so much more about those tasty bivalves in The Big Oyster: History on the Half Shell by Mark Kurlanksy. This book tells the remarkable story of New York City, by following the trajectory of one of its most fascinating inhabitants, and exports – the oyster.

Kurlansky relates the history of New York as you've never read it before. The book doubles as a tale of caution as we continue to treat our natural world as an infinite resource.

A book that also begins in New York is The Glass Universe: The Hidden History of the Women Who Took the Measure of the Stars by Dava Sobel. This fascinating book is about the Harvard Observatory at the turn of the twentieth century. Director Edward Pickering and his staff of human computers analyzed tens of thousands of glass plate photographs of the night sky, revealing the spectrometry of the stars. Pickering's computers were virtually all female, and their discoveries revealed many of the secrets of the universe we take as common knowledge today. Not only that, but the majority of the observatory's funding was also from women philanthropists.

Bucking against societal norms, Pickering diligently labored to recognize the work of the women of the Observatory. The classification of stars, calculating the distance between stars, and understanding the elements that make up stars – all accomplishments of these amazing women.

History of our natural world is relayed in Spying on Whales: The Past, Present, and Future of Earth's Most Awesome Creatures by Nick Pyenson. The majestic beauty of whales has always captivated me. One of the many benefits of being a New Englander is that there's a whale watch company somewhere nearby.

Pyenson weaves the story of whales' evolution, hunting and future in a way that makes me want to learn even more about these creatures. I see more museum visits in my future.

A less serious, but important science-based book is Richard Feynman's What Do You Care What Other People Think? Further Adventures of a Curious Character. Feynman was an American physicist and a joint recipient of the Nobel Prize in Physics in 1965. I'm always amazed that a man who could theorize about quantum computers and nanotechnology also wrote in such an accessible manner.

This book includes the lessons he learned from his first wife, whom he married, even as they both knew she didn't have long to live. Also are included are letters he sent his second wife, which reveal his unconventional attitude towards scientific conferences and formal award ceremonies.

A sad chapter of our own history is relayed in Killers of the Flower Moon: The Osage Murders and the Birth of the FBI by David Grann. This is an amazing account of another terrible story of the horrible treatment of Native Americans, including swindles, theft and murder. Not 400 years ago, but less than 100 years ago. There are few heroes in this real-life mystery.

It's summer, so you may want to read a book with a lighter tone. I just finished reading My Grandmother Asked Me to Tell You She's Sorry by Fredrik Backman. This is just an enjoyable little story about the adventures of a young girl as she learns about the mysterious past of her grandmother, her neighbors, and herself.

This is perfect for that weekend when you have nothing else on your schedule. Why? Because once you start reading, you won't want to put it down.

BONUS BOOK: I had promised 6 books, but I need to include a 7th – Complete Stories by Kurt Vonnegut. Grouped by topics, this anthology includes all of Vonnegut's short stories. While most of us read at least one of his novels in high school or college, you may not be familiar with these gems. In many of his books, Vonnegut comes across as a cynic. However, reading these stories made me realize that while he may have been cynical, deep down, he was a romantic.

At over 900 pages, it was the perfect nightstand book for a few months. A perfect ending to a light summer day.

The 6 new books that I plan on reading are (alphabetical by author):
Theodore Roosevelt: A Literary Life by Thomas Bailey & Katherine Joslin (Because we should all read at least one book a year about Roosevelt)


Walking: One Step at a Time by Erling Kagge (My new mode of exercise)


A Good American Family: The Red Scare and My Father by David Maranis (A "blind date" book I picked up at Titcomb's Book Shop)


Rules of Civility by Amor Towles (I loved A Gentleman in Moscow)


Astronomy Through the Ages: The Story of the Human Attempt to Understand the Universe by Robert Wilson (History + Science + Stars = Happiness)


Cape Cod and Islands Lawn & Garden Almanac/Manual by Jack Youngman (I need to know what will grow in my yard)
If there's a book you think I missed, please mention it in the comments section. There are 3 other seasons that need books!