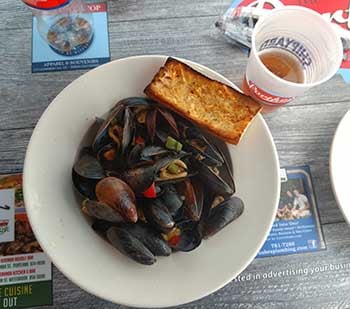 "A day without laughter is a day wasted." - Charlie Chaplin

It had been a long day. I was in California to deliver an evaluation report to a client. The day before, I had several telephone/web meetings with clients on the east coast and Midwest – so 3 time zones had to be taken into consideration. The calls began at 6:00am (9:00 in Florida), so I was up at 4:30am to get in my walk, shower and first cup of coffee.

After the meetings, I had a long drive ahead on a clogged California highway. In the late afternoon, a manager from the California client, Alissa, sent an email about lunch the next day. The briefing was scheduled from 8:30am to 1:00pm. They were being thoughtful, and bringing in food. I'm lucky to have clients like that.

A menu was attached to select my choice. In the appetizers section was "PEI Mussels". I love mussels. Whenever we go to Portland, Maine, our first stop is The Porthole restaurant, which has outdoor seating on a pier. The Bang Island Mussel company is located on the next pier, so freshness is a given.

With The Porthole in mind, I replied "I'm guessing that an order of mussels with a dark lager would be in bad form. So, a turkey club will be great. No sides please."

Alissa replied, "I see no problem if the mussels are steamed in a delightful lager broth! Alas, I'll mark you down for the club."

I laughed and responded with what I hoped would be a witty reply. She retorted with a quick comeback. The thread continued with each of us trying to make the other person smile. It ended with discussions of private jets and 8th grade French. A great end to the day. Except the day wasn't ended.

A few hours later, I had a text exchange with Alissa's manager, Stephanie. There were some changes to travel schedules, and she wanted us to be on the same page for the briefing. I mentioned the email exchange with Alissa. My partner and I were impressed with Alissa's professionalism during the evaluation. Add her wit to the equation, and she's a keeper.

Stephanie explained how grateful she was to have Alissa on her team and in her life. Then she added, "The wit is the primary reason for keeping her (wink emoji).

That line sounds even funnier if you could hear it in Stephanie's voice. And although it was a text, the dry delivery came through. My waiter gave a funny look at the guy eating alone laughing to himself.

We should take our obligations seriously. We should treat each other – customers, coworkers, partners – with respect. When it's time to work, we should roll up our sleeves and get to it.

We should also take the time to laugh. To look for the appropriate moment to share a silly exchange. To break the tension with positive humor. No malice, no insults, no profanities. Allowing a little absurdity to add some perspective to the day.

Our lives are filled with work and responsibilities. The minutes, hours and days pass by with increasing speed as the years leave new yesterdays behind. Take advantage of the seconds that allow us to share a smile.