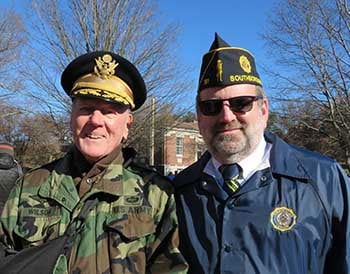 "I don't want a ----- thing!" – John Wilson

My plan was simply to march in the parade. It was the first Memorial Day after my father died. The local Veterans of Foreign Wars (VFW) and American Legion posts invited all veterans to be part of the town parade. It would be a wonderful way to honor my father and be with other veterans on a tough day.

When I arrived at the town's Community House, I realized I didn't know what entrance to use. Another car soon arrived, so I slowly got out of my car. The gentleman came up to me and said, "Hi, I'm Bill. You look like you're new here."

He showed me where everyone was gathering, and then began introducing me to the other guys. Raymond, Paul, Dan, Dick and Peter (plus other names I forgot). Then the men in charge – Steve, the VFW Commander, and John, the American Legion Commander.

Although we hadn't met before, I knew who John Wilson was. He moderated the candidates' night at the library each year and served on several committees. I knew that he was a past Town Moderator – a thankless job that included running the Annual Town Meeting – a New England tradition that Southborough has followed for almost 300 years.

After the parade, we gathered in the hall for sandwiches and liquid refreshment. I quietly listened as friends caught up since the last time they saw each other, shared stories of past parades, and commiserated about the current state of town affairs. Some wore civilian clothes, others Legion or VFW garb, and some could still fit into their uniforms – including a man who had served in World War II!. It was the perfect place to be.

As I got up to leave, John came over. He let me know that he was also the town's Veterans' Agent. "My office hours are Tuesday afternoons. So, if you have some time, stop by."

That simple invitation would have a deep impact on my life.

Over the next 5 years, I would be introduced to another meaning of the word "service". Some public projects, like working with John and Steve guiding Boys Scouts and Girls Scouts as we replanted flags at graves the Friday before Memorial Day. And some smaller behind-the-scenes projects needed to help veterans in town. Whenever John started a conversation with, "If you have some time…", I knew I would soon be volunteering to help out.

John's life was marked by volunteering to serve. He volunteered to join the Army, go to Officer Candidate School and Airborne School. He volunteered to go to Vietnam. After active duty, he volunteered to join the National Guard, retiring as a Lieutenant Colonel. He volunteered to be Commander of the American Legion Post.

Beyond the military, John volunteered to serve his community. Whether at his church, as a coach for youth athletics, or on various town committees. For over 25 years, he volunteered to run for Town Moderator. If he saw a need, he stepped up.

Last summer, John was diagnosed with ALS. In late fall, he retired from his role as the Veterans' Agent. He also announced his plans to step down as the Post Commander.

Steve and I had lunch with him in December. Like the first time we met, I listened as the two men shared stories of the past. After an hour, I turned to John. "There's no easy way to bring this up. People in town would like to honor you for your service, and I was thinking…"

John abruptly cut me off. "I don't want a ---- thing!" He explained that it was his job to be the Veterans' Agent and he was paid for that. As for the rest, he was lucky to serve in the ways that he did.

I replied, "Yes, Sir."

After an uncomfortable pause, Steve artfully shifted the conversation by bringing up a piece of town trivia. We spent another hour talking and laughing. More stories, more memories. It was a great afternoon. And my last conversation with John.

On Tuesday, February 6, John Wilson passed away at the Bedford Veterans Affairs Medical Center surrounded by his family. On Friday afternoon, his fellow veterans will render honors at his wake.

For the rest of us, there's another way to honor John, and the men and women in our communities like John. We can recognize that we do "have some time", and then find a way to volunteer. To answer the call to service.