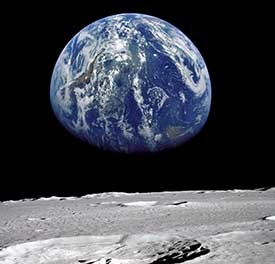 "When we are no longer able to change a situation - we are challenged to change ourselves." - Viktor E. Frankl

On New Year's Day, many of us make resolutions to improve ourselves in the coming year. We may want to lose weight, quit smoking or continue our education. Or maybe, save money to take that trip we've always dreamed about.

Whatever the resolution, we challenge ourselves. Of course, that undertaking is added to the others we face at work and in our personal lives. How can we overcome all these challenges?

Every day, there are small problems that must be tackled, and those can add up quickly. Larger difficulties, in many forms, can arise at any time. I actively seek inspiration to prepare me for whatever lies ahead.

You can find inspiration in many ways. I'm inspired by reading books, tapping into my social network and seeking out the opinions of smart people. This insight boosts my morale, allowing me to gain ground on my challenges. The key to long-term success is refreshing that stimulation regularly.

Since I love to read, books and magazines are my first source of inspiration. What's important isn't just the author's message, but how they present their ideas. Writers that know how to use stories to explain complicated concepts always resonate with me.

The books don't have to be business or leadership books. I enjoy thrillers in the style of Robert Ludlum, Lee Child and David Baldacci. I probably won't be on a secret mission to defeat an international spy ring in the near future. But I can draw from the tenacity of the heroes as they overcome physical and psychological pain to accomplish their goal.

My magazine subscriptions range from Mailing Systems Technology to National Geographic to The Planetary Report. Reading about what's happening in the industry gives me ideas about innovative approaches to my business. A story on the changing landscape of America's Northwest Plains makes me think about the unintended impact of our decisions. The tenacity to begin a 20-year mission to the furthest reaches of our solar system reminds me to consider the importance of long-term planning, while reminding me of my own insignificance.

We don't need to spend more time on our phones or tablets checking our social media sites. However, we should consider who's appearing in our timelines. I regularly cull my list to remove those people who only post negative or divisive comments. Then I replace them with people who celebrate life – from amazing photographs to inspiring messages of love to celebrating personal accomplishments.

It's the same with my "professional" social media diet. I seek out those that willingly share information and ideas, not just promote products and services. There are many smart people online who can synthesize an idea into 280 characters, or at least post a link to a longer article that does.

I've saved letters and emails from friends and loved ones. If I start to feel down, reading these notes reminds me of the many people who've supported me through the years. A letter written 20 years ago still brings a smile and encouragement today.

I'm lucky that I don't have to rely only on letters from the past. When stuck on a problem, I share it with those close to me. Sometimes, just talking about the issue will help me see solutions I hadn't thought about. Or, the other person will recommend alternatives to my approach. And when needed, they'll tell me that I can accomplish anything I put my mind to.

Will my sources of inspiration work for you? Maybe. Think about what inspires you. What authors do you enjoy reading? Who shows up on your social media feed? Who are those close to you that provide support and encouragement?

Make a list of your sources of inspiration. Continue to grow that list as you read books and discover good ideas. Build your relationships and don't take them for granted.

Even without any New Year's resolutions, you'll face challenges in the coming year. Seek out the inspiration that can help you be successful.