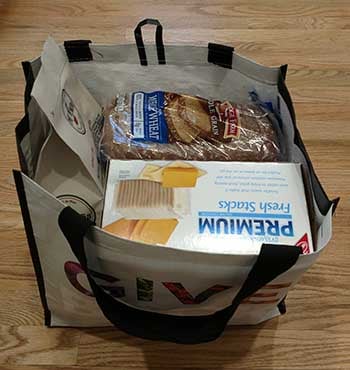 "Wake at dawn with a winged heart and give thanks for another day of loving." – Kahlil Gibran

A friend shared a post about how an ordinary task – bagging groceries – brought back memories of her father. And how much she missed him. In a follow-up conversation, she talked about how much she thinks about him, about the hole that he left behind. She ended with, "I'm okay with that, because he is worth leaving that hole, only for him."

That phrase stuck with me for days, "he is worth leaving that hole." I thought of all the holes that have formed in my heart over the last few years. Losing people close to me – people worthy of leaving a hole. People worthy of tears in the middle of the night, or while watching a movie, or bagging groceries.

It seems the older we get, more holes form, because with aging comes death. Parents. Siblings. Sons. Daughters. Friends. It's an unavoidable part of life. The price for loving another person.

It's futile to try and fill the holes, because no one will be the person we lost. However, we can fill the other spaces in our hearts. The emptiness we didn't realize existed until someone staked a claim. We can let other people become closer to us.

It may not be people. It may be poetry or art or nature. It may be immersing ourselves in an activity that brings us peace and joy. Perhaps it's something we share with others, or perhaps it's just something for ourselves. A private bliss that touches only us.

That's not our only role. We may also become the reason for another's happiness. To be the catalyst for their joy. To take residence in the unknown empty space in their hearts. It may be intentional, or it may be a friendship that began out of a simple conversation.

Of course, all this involves risk – the risk of more loss. The cruel duality that makes up life is that everyone who is important to us, and everything we treasure, is what we will miss most when it's taken away. When we choose to live, we choose to love. When we choose to love, we expose ourselves to the risk of loss.

We have only one choice – to act in a way that we're worthy of the holes we leave behind.