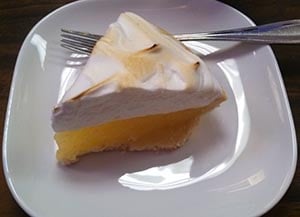 "You cannot get through a single day without having an impact on the world around you. What you do makes a difference, and you have to decide what kind of difference you want to make." – Jane Goodall

I stopped at a small diner for lunch. It had an interesting layout, and from my seat at the counter, I could see most of the restaurant. And watch how the waitress interacted with her customers.

First there was the elderly couple. Clearly regulars with a routine that include bantering with the waitress. They probably order the same meals every time and ask the same questions every time. The gentleman even inquired about my food, and whether or not I liked the dessert (spoiler alert – I did).

Next were the two friends who chose a booth in the corner. You couldn't tell if they hadn't seen each other for a while, or if this was a weekly event. They were so happy to see each other and share whatever news had occurred since their last visit.

Directly across from me were a father and daughter. He in his 60s, her in her 30s. They were wearing matching t-shirts with a unique design that looked like wings.

The waitress asked about the shirts. They were in memory of someone who had recently passed away. Even from a distance, you could sense the loss.

When the waitress brought the check to the table, she explained that she removed some items from the bill. She too had recently loss someone and understood how they must be feeling. She also thought it was wonderful that they were keeping their loved one present through their shirts.

The daughter was visibly moved. She stood up and she and the waitress hugged. For that brief moment, it seemed like all the chatter stopped. We were witness to an act of kindness. An act of love.

While the waitress's focus was on the father and daughter, her actions impacted everyone present. She showed the meaning of compassion and empathy. She revealed the power of kind words and a simple gesture. She reminded us that even strangers are connected.

When we pay attention, we see similar stories taking place around us. From the home to the workplace, from the supermarket to the outlet store, from the airport to the hotel lobby. People reaching out to fellow humans, displaying compassion and support.

We should also remember that people are paying attention to us. They see how we treat the people we encounter. Whether we just push through the day or take a moment to have empathy for those in need.

We shouldn't seek an audience to promote our magnanimity, and at the same time recognize people see our conduct. Like the scene in the diner, our actions have a greater impact than we realize. The immediate assistance to those we help, and the inspiration to the people around us.